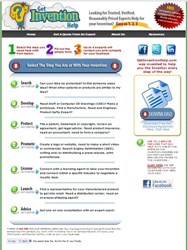 "I wanted to have a hub for the inventor to start or continue with their ideas by submitting a request for qualified services, compare costs from various vendors and decide who to work with" said Brian Fried, President of GetInventionHelp.com
Melville, NY (PRWEB) August 20, 2013
GetInventionHelp.com launched today as a new, innovative referral platform for inventors to connect with services to help with their invention ideas. The new platform provides inventors a no fee matching service of pre-screened vendors that now reach out to the inventor, rather than performing a random search for help with their invention or delaying the start of their invention searching to find inventor resources.
Serial Inventor, Author and Got Invention Radio Host Brian Fried explained that he started the website after noticing a demand for inventors wanting to work on their ideas but not sure where to go or what to do next. "I wanted to have a hub for the inventor to start or continue with their ideas by submitting a request for qualified services, compare costs from various vendors and decide who to work with," said Fried. Inventors can choose from service providers to help with protecting their idea, licensing, finding manufacturers, making prototypes, promoting their inventions and other services found on the GetInventionHelp.com website.
Service providers for all phases of the invention process apply and are vetted before they have access to the contact information of the inventor that requested their specific criteria of services they offer for a nominal referral fee. The inventor leads are sent through various system delivery capabilities.
Most resources for inventors are focused on their everyday tasks with limited resources for marketing outreach to build their businesses. Fried notes, "GetInventionHelp.com is a lead generation platform created to help these service providers connect with inventors who need their services."