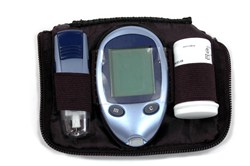 Having an emergency bag prepped and ready at all times is crucial.
Brooklyn, NY (PRWEB) August 14, 2013
Diabetics already have their care routine down pat, from having glucose monitors and wound wraps on-hand to having a detailed eating schedule mapped out. However, Marc Kaplan from Save Rite Medical says that the summer is a rough season for diabetics since the disease makes heat and humidity take a particularly big toll on the body. He recently decided to speak up and offer specific advice to diabetics about what to eat and drink, how to handle natural disasters, and what changes in medication may need to be made in the summer.
"Most diabetics know to bring extra diabetic supplies when they leave the house in the summer since they know they can easily become dehydrated and are even more susceptible to heat exhaustion when their sugar levels get low," Kaplan states. "But a lot of these supplies can be affected by high temperatures, especially if you're outside for the day and bring them with you in the car or to the beach." He advises storing these products indoors or in shaded areas for as long a period of time as possible. Staying hydrated – even if you don't feel thirsty – is also particularly important for diabetic patients during the summer months.
Unfortunately, heat isn't the only thing diabetics have to worry about in the midst of summer, Kaplan adds. "Having an emergency bag prepped and ready at all times is crucial," he states. "It's also a good idea to wear an identification bracelet to let others know you're affected." Your emergency bag should consist of enough medicine and supplies for several days. He advises that you ask your pharmacist about the best way to store these products when making an emergency kit. It's also a good idea to keep copies of prescriptions, your physician's phone number, and detailed information about the medical supplies you use in the kit.
As it's always better to be safe than sorry, Kaplan reinforces the notion that you should also keep emergency snacks and bottled drinks in your car and on your person whenever going out in the summer months.
Save Rite Medical is a medical supply company based out of Brooklyn, New York. They aim to provide customers with the advantage of a superior selection of medical supplies at competitive prices.