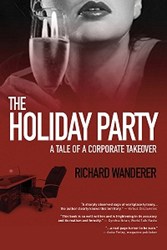 Reads like a movie.
Los Angeles, California (PRWEB) August 15, 2013
Author, Richard Wanderer, who wrote The Holiday Party (A Tale of a Corporate Takeover), http://www.theholidayparty-ataleofacorporatetakeover.com comments on a recent article published in the Los Angeles Times, August 6, 2013, entitled, "Washington Post buy: Can Jeff Bezos fix newspapers' business model?" Its author, Michael Hiltzik discuss the takeover of the Washington Post.
Mr. Hiltzik's article stated in pertinent part that future generations of a founding publisher's offspring often sell the family owned property as a result of profit-taking
family members; internal battle with other family members who have been running the operation. They want to sell the publishing property because they feel they can make more money by investing in enterprises other than publishing according to the Los Angeles Times article.
What the article doesn't cover is the fact that very often loyal employees of the family owned publishing company, having been measurably involved with building the business find their careers in the hands of the strangers that take over the operation. What happens to their lives is very often not a pleasant experience, said Wanderer, who has more than 50 years experience in the publishing industry.
Wanderer is an expert in the realm of corporate takeovers such as those at major media publishing properties. In his fictional suspense novel, The Holiday Party (A Tale of a Corporate Takeover), two brothers battle their other siblings over keeping the family owned national magazine, Gladstone.
"This is a topic that I have written about in depth, and it is something that happens all too often, especially in the media and publishing industries", Wanderer said, "Corporate takeovers can have a huge impact on every single employee at these companies."
Two of Wanderer's characters in The Holiday Party (A Tale of a Corporate Takeover), Adam and Warren Gladstone, loved publishing the magazine founded by their father, Jeffrey Gladstone. However, their other family members, coupon clippers, felt they would have better investments elsewhere. This resulted in the sale of the property to a huge profit oriented media conglomerate and brought chaos into the lives of loyal employees who helped make the magazine a great takeover target.
The media conglomerate installs a very difficult to deal with regime and many talented employees leave the magazine voluntarily or involuntarily. Wanderer tells his story from the viewpoint of the loyal employees who helped to build the magazine, Gladstone, into a prominent success story. One of the characters in his book, through his actions, informs the readers as to how one may try and cope with this type of situation.
Richard Wanderer spent more than 50 years of his life working in the advertising sales departments of major national magazines and newspaper chains in NYC and LA. His characters and scenarios are often an amalgamation of people and situations he has come in contact with through his personal experiences as well as a writer's imagination. Later in life, while working full time and raising a family, he also became a member of the California Bar.
Sources:
http://www.latimes.com/business/la-fi-hiltzik-20130807,0,2277462.column
About Richard Wanderer's Novel:
Richard Wanderer's fictional suspense novel, The Holiday Party (A Tale of a Corporate Takover), http://www.theholidayparty-ataleofacorporatetakeover.com deals with the takeover of a family owned national magazine which was run in an employee friendly manner, by a huge media conglomerate that installs a Draconian thrift regime. It has received many strong reviews: Kirkus Reviews calls it, "A sharply observed saga of workplace tyranny"; San Francisco Book Review, "Page-turner"; Midwest Review, "Highly recommended"; IndieReader, "Suspenseful"; Bookviews by Alan Caruba, "Leaps off its pages"; Cynthia Brian of World Talk Radio, "This book is so well written and is frightening in its accuracy and its realism and ferocity." Published by Two Harbors Press, the novel is in softcover and also available on Kindle and Nook.
Contact: Patricia O'Brien, St. Bernard Public Relations (818) 986-7777