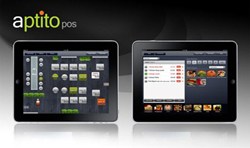 We are thrilled to team with Aptito's unique mPOS solution.
Los Angeles, CA (PRWEB) August 15, 2013
USAePay, the industry leading payment gateway is excited to announce its most recent integration with Aptito, a cloud based point of sale platform.
USAePay, known for its thorough and ongoing security and fraud prevention efforts. Compliant with all regulations set forth by the PCI Security Standards Council, USAePay has also teamed with additional fraud-prevention services to provide the most secure mobile payment processing available. This most recent integration gives current Aptito users the option to process credit card payments via the most secure methods available, which allows merchants to use the Aptito platform with USAePay as their payments network provider. USAePay supports all standard transaction types including full and partial authorizations and reversals.
"The PaySaber Clip and Aptito point of sale software combine as a strong mobile solution for our merchants. We look forward to adding their product line into our already powerful point of sale offering," said Ben Goretsky, CEO of USAePay. "We are thrilled to team with Aptito's unique mPOS solution."
Aptito provides the hospitality industry with an innovative, socially driven, all-in-one digital software solution that offers the most complete package of features to bring restaurants into the digital age. The Aptito software seamlessly integrates customizable digital menus, offered on both iPad and Android tablets, a full-featured and mobile Point-of-Sale (POS) system, an inventory management system, and smartphone app for mobile menu ordering. Aptito allows the service industry to deliver a fast, personalized and interactive experience to its customers like never before, leveraging social media to connect restaurants to consumers, driving up sales, increasing revenue and building data points for greater market intelligence.
About USAePay:
Since 1998 USAePay, a GorCorp Inc. company has been helping merchants process their credit card and check transactions with speed and security. Founded by the Goretsky brothers, the company is family-owned and based in Los Angeles; CA. Currently the USAePay gateway supports all of the major platforms (eg. First Data, TSYS, Global, Paymentech...) in the credit card industry and works with some of the leading check platforms. USAePay is also pleased to work with many of the larger merchant service banks in the US and abroad. For more information, please visit http://www.usaepay.com or call 866.USA.EPAY (872-3729).