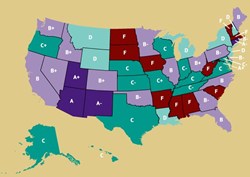 Arlington, VA (PRWEB) August 14, 2013
Fewer than half the U.S. population lives in communities where the most basic methods of diverting people with severe mental illness from the criminal justice system are being used, according to a new study by the Treatment Advocacy Center.
A full one-third of the nation's states get a D or F for their use of diversion programs proven to reduce the criminalization of mental illness, the study found.
"In a better world, people with untreated severe mental illness would get help before their symptoms resulted in law enforcement involvement or criminal prosecution," said Doris A. Fuller, executive director of the national nonprofit. "Until that day, jurisdictions that fail to use such uncontroversial tactics as mental health courts and law enforcement crisis intervention teams are failing their citizens who suffer from severe mental illness and their communities."
Mental health courts divert qualifying criminal defendants from jail into community-based mental health treatment. Crisis intervention teams – often called CIT teams – consist of specially trained officers who respond to service calls involving mental illness. Both programs have consistently been found to reduce the arrest and incarceration of individuals with severe mental illness.
"Everyone talks about the inhumanity of criminalizing people with serious mental illness, but most of us live in jurisdictions that don't use even the most basic tools to keep people with severe brain diseases out of jail," the executive continued.
Nationwide, less than 40% of the U.S. population lives in jurisdictions with mental health courts, and only 49% lives where police departments are using CIT, according to "Prevalence of Mental Health Diversion Practices: A Survey of the States."
At the top of the class, Utah and Arizona were the only states serving at least 75% of their populations with both mental health courts and CIT teams. At the bottom, receiving Fs, were 10 states where less than 20% of the population has access to these diversionary practices.
Prevalence rates and grades for each state and the District of Columbia are published at TACReports.org/diversion-study.