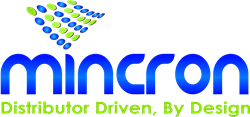 By partnering with Mincron and automating our processes, we're taking Baker-Mitchell to a whole new level of operational efficiency with a goal of providing the highest levels of service possible to our customers.
Houston, TX (PRWEB) August 15, 2013
Mincron Software Systems, a leading provider of complete solutions for durable goods distributors, today announced the selection of its SmartDistributor™ System by Baker-Mitchell Company, a wholesale distributor specializing in plumbing and heating equipment.
Baker-Mitchell will leverage SmartDistributor to streamline their operations, increase value and service for their customers, and prepare for growth. "My Grandfather always said to be successful you must never compromise your service," said Mark Mitchell, Owner and President of Baker-Mitchell Company. "My Grandfather's legacy of service has continued as our top-priority at the beginning and ending of each day, and we're extremely fortunate at Baker-Mitchell to work with a team of veteran experts to serve our loyal customer base."
Baker-Mitchell will specifically apply SmartDistributor functionality to help provide quick-response to customers' requests using search and drill-down functionality, maximize warehouse space through the restructuring of their inventory replenishment process, collaborate between departments, and gain efficiency with access to real-time, accurate information.
"With SmartDistributor, we're revolutionizing our business," said Kelly Mitchell, Owner and Senior Vice President of Baker-Mitchell Company. "By partnering with Mincron and automating our processes, we're taking Baker-Mitchell to a whole new level of operational efficiency with a goal of providing the highest levels of service possible to our customers. While this transition is a large one to undertake, the team at Mincron has made this process an exciting one for us at Baker-Mitchell."
Backing up its powerful solutions, Mincron maintains a 30-year, 100% system implementation success rate with unsurpassed support, post-launch system analysis and business optimization. Mincron's best practices implementation methodology and hands-on, collaborative approach give customers unique advantages of learning from Mincron's deeply experienced team.
"We're happy to welcome Baker-Mitchell to our customer family," said Wendy Berger, President of Mincron Software Systems. "At Mincron, we're all about serving our customers; with proven solutions like SmartDistributor that run at the heart of our customers' businesses, we practice a Service First philosophy that promises our customers unsurpassed support, industry expertise, and full-service attention they want and deserve."
SmartDistributor is the Mincron core solution for wholesale distributor Enterprise Resource Planning (ERP) with comprehensive mission-critical tools for powerful business management, monitoring, and analysis. Enabling complete, enterprise-wide control of inventory management, sales order processing, purchasing and financials, SmartDistributor offers a flexible Windows-based Graphical User Interface (GUI) with dynamic point-and-click navigation. A workbench-like design gives users an efficient one-screen view of customer details, product information, inventory status, orders, contracts and bids. This intuitive design and powerful capabilities help customers save time and reduce costs so they can focus on serving their own customers. SmartDistributor is available today. Email info(at)mincron(dot)com or call 1-800-299-7010 for details.
###
About Mincron
Mincron Software Systems is a leading provider of innovative, high-value software and business solutions for wholesale distributors, logistics companies, and other businesses requiring tightly integrated enterprise software solutions. Mincron serves customers with mission-critical solutions supported by exceptional care, training and implementation. Over its 30-year history, Mincron has maintained a 100% implementation success rate and an 88% customer retention rate. Today, Mincron achieves a Net Promoter Score™ of plus 24—two times higher than the average U.S. company. Mincron assists 16,000 active users throughout the U.S. and Canada in over 1,700 locations and customers rely on Mincron to distribute $18 billion dollars of durable goods annually
Copyright © 2013 Mincron Software Systems. All rights reserved. Mincron, the Mincron logo, and SmartDistributor are trademarks of Mincron Software Systems. All other product or company names mentioned are used for identification purposes only and may be trademarks of their respective owners.