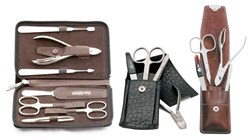 Toronto, Canada (PRWEB) August 15, 2013
Solingen is renowned throughout Europe as the City of Blades. As a result, it is no coincidence that Fendrihan has long carried shaving and grooming products from German manufacturers based in Solingen. In recent times, Fendrihan is continuing that practice, having approached both Erbe Solingen and Wasa Solingen in search of more high-end grooming products for its North American clientele. In total, these additions number 20, consisting of some of the finest manicure and pedicure tools that can be found in Europe.
The City of Blades has long been a center for smithing one of the best quality steels that can be found. In fact, some of the smelters found in the Solingen region can be dated to more than two millennia ago, while the earliest surviving mention of the region dates to 1067. During medieval times, Solingen earned its name for the manufacture of its swords, which became so famous that merchants brought them to regions as far as the British Isles. Although swords have long become obsolete on the battlefield, Solingen's population have retained the skills and experiences that enabled their predecessors to produce exceptional blades, turning them to civilian purposes. In modern times, these German manufacturers are renowned for superior consumer products ranging from kitchen knives to scissors and shaving razors.
Since it boasts such a powerful reputation, Solingen has become a valuable brand name that unscrupulous manufacturers sometimes misappropriate for their own benefit at the cost of detriment to unsuspecting consumers. To protect against such injustices, the Solingen Decree has been enacted to protect both businesses and consumers. German products bearing the name must be made in Solingen and must meet the regulation's exacting standards. This ensures the excellence of the Solingen products sold to consumers throughout Europe and North America.
Both Erbe Solingen and Wasa Solingen have earned the right to label their products as coming from the City of Blades. Each of the 20 products added to Fendrihan's catalogue have been made using the time-tested practices that have made the region such a success. Examples range from individual instruments such as grooming stainless-steel scissors, nail clippers, and nail nippers to entire sets of tools stored in reliable leather. North American consumers can be assured that each of these manicure and pedicure products possess outstanding cutting capabilities without sacrificing either their usefulness or their useful life-spans.
The addition of these products to Fendrihan's catalogue represents further increases in its selection of non-razor grooming instruments. Each one of these grooming tools provides additional choice and convenience to Fendrihan's North American clientele, while remaining true to its commitment of finding and bringing home the finest international brands in men's grooming. Furthermore, clients interested in these and other Solingen products will be delighted to learn that Fendrihan has no plans to stop here. Current plans are to bring over more products from Erbe Solingen and other German manufacturers of good repute, while the existing selection serves to whet consumer appetite for superior products from the City of Blades.
About Fendrihan:
Fendrihan is the premier Canadian online retailer of shaving products, boasting a comprehensive selection featuring some of the most famous names in the business plus rare and hard-to-find products from manufacturers all around the globe. In recent times, a series of introductions has seen its selection expand to include more personal care products, fine writing instruments, European leather accessories, and even a superb collection of kitchen knives from the famous Japanese manufacturer, KIYA.