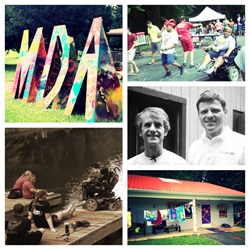 All the pieces that come together to make this dream a reality is amazing. It is a privilege to be a part of something so special.
(PRWEB) August 15, 2013
Every summer, regional MDA chapters host a week long adventure for children and teens with neuromuscular diseases and conditions at Camp Carefree in Stokesdale. Camp requires a full year of planning to recruit, select, and turn approximately 60 impressive college students and active duty military members into legendary MDA Summer Camp Counselors. Additionally, the planning committee coordinates a rotation of volunteer nurses to staff the camp and firemen from seven different departments to cook dinner each night for well over 120 people. Then, activities and programs must be planned so that all 60 campers will experience the best week ever.
This year, MDA Camp was sponsored by Lowes Home Improvement, Bojangles, Sheetz, Walgreens, Kohl's, NuMotion, Sampson Bladen Oil Co./Han Dee Hugo, Jiffy Lube, Circle K, Harley Davidson, Boy Scouts and Girls Scouts of America, and MDA's #1 National Sponsor – Firefighters. On VIP Day, MDA invited all sponsors and friends to come and see what all the fuss is about during some carnival-themed fun and tours of the Camp Carefree site which was dotted with horses, llamas, a lake and various creeks, an accessible pirate ship, and outdoor pavilions.
101 Mobility Greensboro Owner, Jack Shoemacker, attended and was blown away by the collaborative effort taken to pull this experience of a lifetime off. Shoemacker commented, "It really is something – kids are bussed in from as far as the Outer Banks, come here and learn how to fish from local firemen, get the opportunity to swim [many] for the first time in an accessible pool with a camp counselor from the Marine Corps, Navy or Air Force, build various arts and crafts projects with materials donated by Lowes Home Improvement, enjoy a full lunch buffet provided by Bojangles. All the pieces that come together to make this dream a reality is amazing. It is a privilege to be a part of something so special. Oh… and 101 Mobility beat Jiffy Lube in Fluffy Bunny! It was a fun time had by all."
In a conversation with Shoemaker, Steve Sevcik, MDA Camp volunteer of 49 years explained why businesses and volunteers alike are inspired to support MDA Summer Camp each summer, "…They [the campers] can fish, swim, feed the animals here and plus they get to compete with one another and build friendships. We see the thrill that the kids get out of this and how they look forward to camp every year which keeps us all coming back!"
About 101 Mobility
101 Mobility is a full-service sales, service, and installation provider of a complete line of mobility and accessibility products and equipment, including stair lifts, auto lifts, ramps, porch lifts, patient lifts, power wheelchairs, scooters and more. Short and long-term rentals are also available for home, office, and institution. By working with patients to identify which home health care devices best suit each individual's needs, 101 Mobility provides an alternative to group homes and rehabilitation centers by increasing accessibility and allowing clients to live self-sufficiently in their homes.
About Muscular Dystrophy Association
The Muscular Dystrophy Association is a voluntary national health agency — a dedicated partnership between scientists and concerned citizens aimed at conquering neuromuscular diseases that affect more than a million Americans.