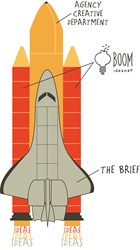 Given our media schedule, we require a relatively high volume of broadcast advertising. With Boom Ideanet we never run out of fresh ideas. - Shane McCall, VP, Creative Director, PetSmart
Kansas City, MO (PRWEB) August 20, 2013
Crowdsourcing models are generally considered to be disruptive of the advertising agency industry. But the fact is, the right crowdsourcing model can serve as a complement to an agency, serving as a booster on an as-needed basis. Boom Ideanet, which hosts a network of vetted creatives, is that model. Bernstein-Rein and another ad agency (preferring to remain unnamed) have recently plugged Boom Ideanet into their creative departments.
"Boom Ideanet is one crowdsourcing platform that isn't anti-agency. In fact, we consider agencies the ideal partner for our model," said Steve Wood, Managing Director of Boom Ideanet. "Few agencies can afford to maintain a staff capable of handling the ebb and flow of work. With Boom Ideanet standing by, they don't have to staff up. They just plug in our Ideanet for access to fresh, disciplined thinking on overflow projects from existing clients, assignments that require experience or expertise they may not have on-site, or for pitches."
Bernstein-Rein of Kansas City, recently tapped Boom Ideanet for a highly focused DRTV project for one of its clients. Another mid-west agency engaged Boom Ideanet to generate direct mail concepts for a financial services pitch. Agencies may choose to identify the role of Boom in the idea development or to keep that role discreet, whichever best suits the agency purpose.
These agencies have discovered why PetSmart's in-house agency has been using Boom Ideanet for creative ideas for more than two years. The Fortune 400 retailer gets a boost in meeting its demand for broadcast content by tapping into the Ideanet. Shane McCall, VP, Creative Director, PetSmart, had this to say, "Given our media schedule, we require a relatively high volume of broadcast advertising. With Boom Ideanet we never run out of fresh ideas."
The Boom Ideanet crowdsourcing model can serve as an "instant" creative department for businesses who may have a small creative staff in-house, and need to outsource for a special project or expertise. Ideanet creatives sign non-disclosure agreements, so confidential information is protected.
About Boom Ideanet
Boom Ideanet, LLC provides on-demand access to marketing and advertising idea creation. Based in Kansas City, MO, Boom Ideanet manages a global network of creative talents, hosts assignments and collects ideas in its proprietary online application. The firm works with agencies, brands, and even production companies, delivering a wealth of quality, on-brief ideas in a responsive timeframe, affordably. Boom Ideanet features an ethical crowdsourcing model that offers businesses a cost advantage without taking advantage of creators.