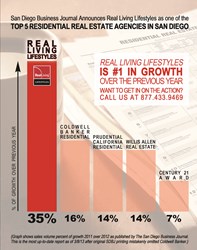 San Diego, CA (PRWEB) August 21, 2013
Steve Rodgers explains to sellers and buyers that the market has changed in San Diego County and on a national level. Real Living Lifestyles Real Estate was in the top five real estate brokerages in San Diego County.
SDBJ 2013 RLL Growth ChartReal Living also had the highest percentage of growth from the previous year out of those five companies. Real Living Lifestyles agents are some of the nation's top producers.
Rodgers speaks to sellers about the importance of having someone to guide them in the appreciating market and to show them how get the maximum price for their properties. In today's market, a buyer needs more help than ever with such a small inventory. Real Living agents are well equipped to find that inventory and guide their clients through the negotiation process to a successful close.
Real Living agents are educated and knowledgeable about the ever increasing market changes. Many of the agents have many years of experience and exceptional customer service reviews. Clients can be confident that they are working with someone who has been around for the ups and the downs and stuck with it to come out on top.
Real Living Lifestyles has eight locations to serve all of San Diego and will be opening more offices in the future. Their comprehensive website, http://www.rllifestyles.com has information on current market data, relocation, home value reports, and more. It is where every seller should start their search. Real Living also keeps a Lifestyles Blog on their homepage to keep everyone up to date on all of the changes in the marketplace. Check back often to stay informed!
Real Living Real Estate is a network brand of HSF Affiliates LLC, which is majority owned by HomeServices of America, Inc.™, a Berkshire Hathaway affiliate.