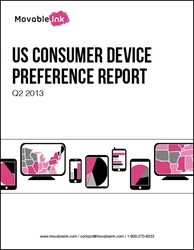 62% of consumer brand marketing emails were opened on mobile devices in Q2 2013.
New York, NY (PRWEB) August 14, 2013
Nearly two-thirds of all email opens take place on smartphones and tablets, according to new research from agile email marketing technology provider Movable Ink.
The "US Consumer Device Preference Report: Q2 2013" reveals that most large consumer brands are already seeing 62% of their marketing emails being opened via mobile devices, with the other 38% taking place on desktops. This is in stark contrast to other reports predicting that the "mobile tipping point" would occur by the end of the year.
Movable Ink's findings are based on aggregate statistics observed in Q2 across its client base, which includes more than 100 business-to-consumer (B2C) marketers from the retail, travel, financial, media, and telecommunications industries. This data set is unique in that it only includes results from large, enterprise B2C marketers, whereas other studies may have examined a mix of B2C and business-to-business (B2B) marketers, as well as results from small and medium sized businesses (SMBs).
The report provides insight into the popularity of different devices when it comes to opening email, as well as differences in engagement and geography observed across varying device types.
Key findings include:

Mobile devices have surpassed desktops. 62% of emails were opened on smartphones (48%) and tablets (14%), compared to just 38% for desktops.
iOS is more widely used for email than Android. Although the Android operating system captured 80% market share of global smartphone shipments in Q2 2013 (1), the iPhone continues to be the most popular smartphone for checking email. iPhones accounted for 38.5% of total email opens this quarter, compared to just 9.3% for Android smartphones.
Android users spend the most time viewing emails. Although iOS beats Android in market share of email opens, Android users spend more time viewing emails when they are opened – 53% spend 15 seconds or more viewing each message, compared to just 41% of iPhone users.
The Eastern states trend towards smartphone use more heavily than the West. Texas is the most smartphone friendly state, with over 55% of emails opened on a smartphone. On the whole, the majority of the East and South lean towards using smartphones for email, whereas large states in the Central and Western parts of the country still trend towards desktops.
"With the move to mobile dominance happening faster than anyone could have predicted, it's essential that marketers optimize their email campaigns for consumption across multiple devices and platforms," said Vivek Sharma, Co-Founder and Chief Executive Officer of Movable Ink. "The insights revealed in this report will provide marketing leaders with a better understanding of the current landscape and how to respond."
The full report is available as a free download here.
Movable Ink's "15 Tips for Mastering Mobile Email" are available as a free download here.
(1) Source: IDC Worldwide Mobile Phone Tracker, August 7, 2013
About Movable Ink
Movable Ink is the leading provider of Agile Email Marketing technology. Since the channel's inception, email has been frozen in time when a marketer hits the "Send" button. With Agile Email Marketing from Movable Ink, email can now be dynamically updated in real-time based on each recipient's time, location, device, and social context at the moment of open. Hundreds of innovative brands such as American Eagle Outfitters, Seamless, Lilly Pulitzer, and Finish Line use Movable Ink to enhance customer engagement and increase marketing ROI. The company is based in New York City and is backed by Intel Capital, Contour Venture Partners, Metamorphic Ventures, ff Ventures, Kima Ventures and email veterans such as Bob Pittman, Andy Russell, Josh Baer, and Alan Laifer. For more information, visit http://www.movableink.com and http://www.pinterest.com/movableink.