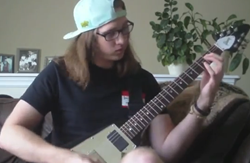 In "Learn to Play a Cool Bebop Guitar Lick -- Part 3," Cameron Rasmussen continues his exploration of Bebop's chordal structure.
Los Angeles, CA (PRWEB) August 13, 2013
Guitar Control, the leader in web-based instruction and comprehensive DVD-based courses, announces the release of "Jazz Guitar Lesson: Learn to Play a Cool Bebop Guitar Lick -- Part 3", the latest in their series of instructional videos that are available on YouTube.
In "Learn to Play a Cool Bebop Guitar Lick -- Part 3", Cameron Rasmussen continues his exploration of Bebop's chordal structure. A Bebop lick dances on top of the music's chord changes, moving away from and then returning to the chord tones. Cameron calls this dance "chromatic approaches" and explains how the lick is anchored to the underlying chord by landing on the chord tone at every fourth beat.
In this example, the lick is developed in the key of C over a II-V progression. First Cameron plays the lick at a fast cadence, to demonstrate the kind of tempo most commonly associated with the Bebop style. Then, he makes a couple of passes at a more sedate pace, so the student can both see the fingering and appreciate the tonal nuances of the line. Due to the inherent complexities of Bebop, this video's musical discussion is at a more advanced level than most Guitar Control lessons, but Cameron's down-to-earth style makes the information clear and accessible.
Bebop is a style of jazz that came to the fore in the mid 1940's, driven by the revolutionary musical theories and innovative techniques of such noted players as Coleman Hawkins, Charlie Parker, Dizzy Gillespie, and, of course, the legendary guitarist Charlie Christian. By the mid 1950's it had matured into what is commonly termed Modern Jazz, as practiced by such luminaries as Horace Silver, Clifford Brown, Lee Morgan, Miles Davis, and John Coltrane. Today, Bebop remains the foundation for Jazz in the 21st Century.
Bebop is defined by its asymmetrical phrasing, intricate rhythmic structure, a certain melodic dissonance, and imaginative improvisation, either interjecting or incorporating a II-V chord progression into the more familiar I-IV-V of the Blues. Although Bebop is usually considered an up-tempo style, it also works well when played andante (moderately slow tempo -- literally, walking speed), as the great Thelonious Monk so aptly demonstrated with his compositions and his playing. So Cameron's slow examples are not only instructive, but musically useful as well. And although the focus here is on Jazz, this lesson is very much applicable to other musical genres, such as Rock and Blues.
Guitar Control is a consortium of professional guitarists dedicated to providing the highest quality musical instruction. Producing both web-streamed lessons and comprehensive multi-DVD courses, Guitar Control offers instruction for every style of playing and for all musical genres. Guitar Control's YouTube channel offers 358 (and counting) free video lessons.