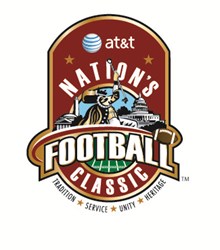 Washington, DC (PRWEB) August 14, 2013
Events DC today announced several participants for the 3rd annual AT&T Nation's Football Classic® weekend, scheduled to be held Thursday, Sept. 5 through Sunday, Sept. 8 in Washington, D.C. The football game features Howard University vs. Morehouse College on Saturday, Sept. 7 at RFK Stadium.
Getting into the spirit of the weekend, Wendy Raquel Robinson (Howard) and Fonzworth Bentley (Morehouse) return to co-host the AT&T Kickoff Rally in support of their alma maters on Friday, Sept. 6. Music fans can help AT&T choose between two up and coming R&B artists to perform as the opening musical act by voting #ATTNFCAdrian or #ATTNFCJarvis here. The one with the most votes performs.
In addition, D.C. favorites Raheem DeVaughn, Experience Unlimited (E.U.) and Mambo Sauce will perform on the AT&T Soundstage during the Pepsi® Fan Festival prior to the football game on Saturday. The Rev. Dr. Otis Moss III, Senior Pastor at Trinity United Church of Christ in Chicago and a Morehouse alumnus, will deliver the sermon at Chapel Service on Sunday.
This year's official Classic party, "Friday Night Lights," will be held at The Howard Theatre on Friday. Ticket information and additional details will be announced at a later date.
"We have another great lineup of participants slated for this year's AT&T Nation's Football Classic®, and fans should stay tuned for additional updates on Classic events in the coming days," said Erik A. Moses, managing director of Events DC's Sports and Entertainment Division. "It's going to be another great weekend!"
All events are free and open to the public (except football game & Classic party). Students, alumni, football fans and all other interested parties are encouraged to attend and participate in the various entertainment events, networking opportunities and educational experiences.
All lower bowl tickets for the game are $25, and mezzanine tickets are $50 (plus applicable fees). Tickets are currently on sale at ticketmaster.com, Ticketmaster outlets, the Howard University Box Office located at Cramton Auditorium (Mon-Fri/10 a.m.-6 p.m.) and the Morehouse College Bookstore (Mon-Fri/10 a.m.–2 p.m. & Sat 10 a.m.-2 p.m).