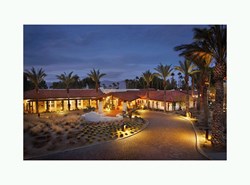 We could not be more thrilled to reopen this truly special resort, to welcome back long time guests and to help other families begin new traditions here in the jewel of the desert.
BORREGO SPRINGS, CALIF (PRWEB) August 15, 2013
Hotel Managers Group, one of California's leading hotel management companies, announces the grand reopening of La Casa Del Zorro Resort with an opening package as legendary as the hotel itself. La Casa Del Zorro's 'The Legend Returns' package offers deluxe rooms at an opening rate from $189 per night. Valid September 1st until November 19th, the package includes daily breakfast and marks the completion of all facilities at the iconic property.
Located in the tranquility of Borrego Springs, La Casa Del Zorro has long been one of Southern California's most famous hotels. Originally opened in 1937, the property enjoys a long and storied past that helped it grow into the jewel of Borrego Springs. Just a couple of hours from both Los Angeles and San Diego, the iconic hotel has played host to many Hollywood stars, incredible weddings and events throughout the years. Today, Hotel Managers Group brings new life into the 67-room luxury resort.
"La Casa Del Zorro opened with select facilities in June to prepare for the grand opening and reintegrate back into the local landscape of Borrego Springs in a new way," said Jack Giacomini, Chairman, Hotel Managers Group, "Come fall, we will be fully operational and ready to serve the sophisticated traveler with a retreat unlike any other."
Ideally placed in the surroundings of the Anza Borrego State Park, one of the top-rated state parks in California, La Casa Del Zorro offers a serene retreat and escape from the everyday. The tastefully appointed guestrooms include 44 deluxe poolside rooms, each with oversized bathrooms and large dressing areas, patios or balconies; four garden king size rooms and 19 private casitas. The rustic and private casitas are spread throughout the 46-acre property and feature a private pool, spa, or both, and are available in one to four-bedroom floor plans, making them perfect for a family vacation.
For generations, the hotel's restaurant; The Butterfield Room has been synonymous with elegant dining and the tradition of gourmet cuisine in a sophisticated setting will be continued under the direction of Chef Kurt Hauser. The restaurant, which serves breakfast, lunch and dinner daily, will offer a selection of inspired continental cuisine including some long-time Butterfield Room favorites such as the Kit Fox Salad, a flower of bibb lettuce, fragrant strawberries, sweet dates, buttery rich avocado, raspberries, crisp jicama and refreshing local Borrego ruby grapefruit tied together with a lime vinaigrette; along with some new dishes like Rack of Lamb with Garlic and Guajillo Chili Sauce made with Anejo Tequila; and seafood specialties like Lobster Thermador and Ahi Tuna that are sure to become classics. The menu features California cuisine with global influences influences and is guided by the principle of fresh, fun and flavorful. The Butterfield room allows guests to enjoy a quiet and luxurious culinary experience with elegant but relaxed décor and a dedication to impeccable service.
In addition to The Butterfield Room, outdoor Dining is available on the Rose Garden Terrace, and a full menu is available for in-room dining. Guests looking to enjoy a cocktail or beverage can enjoy the sunset view from the Pool Bar or head into the Fox Den Bar for a sexy vintage bar atmosphere, live-entertainment and a sexy throw back cocktail menu that includes the Makers Mark Manhattan with house candied Kumquats and fresh Ginger and seasonal specialty martinis like Poached Crimson Pear with Pomegranate "Berries." Star Anise and Clove.
More than just a resort, La Casa Del Zorro is a retreat complete with numerous amenities and activities for guests of every age. From a full-service spa and salon to a complete fitness center and plenty of outdoor activities, there is almost nothing guests can't do. The resort boasts five sparkling pools, six tennis courts, nearby golf on championship greens and one of the world's few "dark skies" for truly spectacular stargazing.
With the scenic backdrop of the Anza-Borrego Desert, La Casa Del Zorro hosts dreamlike weddings and inspired corporate retreats and events. The resort's 7,600 square feet of meeting and banquet space can accommodate groups up to 300. Updated with state of the art audio/visual resources, theater-quality sound and teleconferencing capabilities, the Executive Conference center is a highly functional environment for corporate groups. The De Anza Ballroom, a 2,870 square foot refined space complete with a working fireplace provides the perfect atmosphere for receptions and banquets all catered to perfection by Chef Hauser and coordinated to every detail by the resort's professional wedding and event planners.
"Over its more than 80 year history, La Casa Del Zorro has played an integral part in the history of Borrego Springs and in the memory and hearts of so many," said Patrick Sampson, general manager, La Casa Del Zorro. "We could not be more thrilled to reopen this truly special resort, to welcome back long time guests and to help other families begin new traditions here in the jewel of the desert."
For more information or reservations, travelers can call the hotel directly at (760) 767-0100 or book online at http://www.lacasadelzorro.com.
###
About Hotel Managers Group
Hotel Managers Group (HMG Hotels) has owned, operated and provided third party Hotel, Motel and Resort Management for the Hospitality Industry for nearly 30 years, for over 80 properties. HMG Hotels operates a variety of unique and distinctive hotels in the United States ranging from limited service commercial hotels and mid-size boutique properties to full-service destination resorts, restaurants and conference facilities. We have managed all major brands as well as independent assets. We are able to provide full or focused service with an emphasis on marketing and internet presence, in order to maximize property performance. Giacomini and his business partner H. Joel Biggs, CEO are co- owners of HMG Hotels.