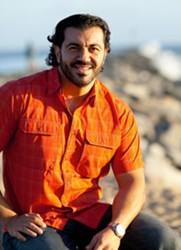 The best way I know how to increase personal training profits is to open up the gap between income and expense – that's where your profits are hiding. - Bedros Keuilian
Chino Hills, CA (PRWEB) August 14, 2013
A lot of personal trainers want to build a successful fitness business that will bring them financial freedom, but most personal trainers starting out do not focus enough time and energy on what it takes to increase personal training profits so they end up struggling to make ends meet. That's why Bedros Keuilian, the country's top fitness marketing expert, has revealed seven ways to help fitness business owners increase their personal training profits.
He explains, "When I started my personal training business back in the day I was the king of linear income. I'd drive to a client's house, trade money for time, and then drive to another clients house – and repeat. Then when I opened my first training studio, I realized that income does not have to be linear at all. The best way I know how to increase personal training profits is to open up the gap between income and expense – that's where your profits are hiding."
Here are the top 7 ways to increase personal training profits:
1. Raise your rates. You might think that low rates keep you competitive, but the truth is you shouldn't be competing with the gyms and diet centers in the first place. Instead, find your niche market and over deliver on results and service.
2. Start group training programs. Phase out one-on-one training or increase the rates for one-on-one so that it makes the group training program more enticing and if someone really wants to train one-on-one they'll find the means to pay the premium for it.
3. Start using E.F.T. (auto debit) in your business and you're going to see two things happen. You're going to automatically start retaining clients for a longer period of time and you'll have more time to train clients, market, and kick back. Plus, your income becomes very predictable.
4.Sell other services and products to your clients. People workout with you because they see you as a credible source of information. This puts you in a position to help them with other needs they may have about health, fitness, and fat loss.
5. Create joint ventures with other businesses who can add value to your business and become an affiliate where you make money for every clients you refer to them.
6. Manage your time more efficiently. Focus and work only on the things that will take your business forward.
7. Sell and market better. Get better at both otherwise you are just wasting money. If you can't sell or are only selling small packages, learn to close more deals and sell bigger packages.
About Bedros Keuilian
Bedros Keuilian is the founder of the popular fitness marketing blog used by thousands of personal trainers worldwide, PTPower.com and president of the world's fastest growing indoor fitness boot camp franchise, Fit Body Boot Camp. Keuilian is a long time fitness business coach and marketing expert who has taught thousands of personal trainers worldwide how to grow a personal training business. To find out more about Bedros Keuilian or his blog PTPower.com, please visit http://www.ptpower.com/.