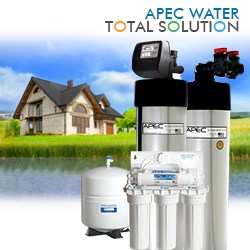 Many don't realize that harmful water contaminants can also be absorbed through the skin and inhaled through the lungs even from casual contact.
(PRWEB) August 15, 2013
APEC's Total Solution system is one of the most advanced and comprehensive whole house water filter packages ever developed for the residential market. It utilizes reverse osmosis, catalytic carbon and salt-free water softener technologies to effectively treat the widest range of water contaminants and deliver purified water to every faucet in the home.
"The Total Solution is a complete home water treatment system designed for today's modern home that protects people's drinking, bathing and cleaning water," said Ken Wong, WQA Certified Water Specialist at APEC Water. "While people understand the importance of drinking water, many don't realize that harmful water contaminants can also be absorbed through the skin and inhaled through the lungs even from casual contact. Some of these chemicals are actually added to our tap water by our local cities and government, therefore we cannot count on others to protect us from water contamination – it really is a personal responsibility for every family. We designed the Total Solution specifically with these people in mind."
Last month the U.S. Environmental Protection Agency (EPA) came out with a report on the National Assessment of America's Public Water System Infrastructure. Their conclusion was that our water systems have reached or are approaching the end of their useful life and estimated that $384.2 billion dollars in project costs would be needed to keep our country's water safe through 2030. This money would go into replacing or refurbishing thousands of miles of aging or deteriorating distribution lines, treatment plants and storage tanks that have been directly affecting the health and safety of millions of Americans for many years. The need for these repairs have never been more urgent.
From chemicals, to heavy metals, to microbial and nanoparticle pollutants, people today live in a very polluted world. We draw our water from aquifers, rivers or lakes which can contain a wide variety of natural and man-made contaminants including bacteria, arsenic, nitrates, petroleum and pesticides just to name a few. Pharmaceutical drugs, nanotechnology, and radioactive particles are modern water pollutants, some so new they have not even been fully tested for human safety. Unfortunately, even with proper water purification at the plant, most city tap water will often still have trace amounts of some of these harmful pollutants and the delivery systems, as we already know, may not be reliable. To make matters worse, harsh chemicals such as chlorine, chloramines and fluoride are often then added back to the treated water indiscriminately to affect an entire population of people.
APEC Water's Total Solution system combines the world's most advanced water filtration technologies to specifically deal with today's modern water contaminants. This next-generation complete system utilizes a 3-Stage filtration process to efficiently provide different types and levels of water treatment based on specific household needs. The first and second stages of the APEC Total Solution consist of two whole house water purification systems that are installed at the point-of-entry where water enters the home. These heavy-duty catalytic units guard the home by removing organic and chemical compounds, and reducing hard water scale before it has the chance to enter the residence. This filtration process protects people's skin, hair and lungs, and reduces scale buildup that can damage pipes and appliances. The last stage is a reverse osmosis system (RO) that is installed at a point-of-use location to filter out the smallest and most difficult to remove contaminants such as arsenic, fluoride, drugs, nitrates, nano-particles, radioactive metals and more. RO water purification units will provide users with an unlimited supply of bottled quality, fresh drinking water directly from home. The Total Solution system effectively combines these proven reverse osmosis and whole house filtration technologies to provide one of the most comprehensive, effective and affordable water filtration solutions available on the market for treating modern water pollutants in the home.
About APEC Water
For over 17 years, APEC has been an industry leading manufacturer of high performance residential and commercial water purification systems. Based out of Southern California, APEC specializes in building premium quality reverse osmosis drinking water systems and backwashing whole house water filters right here in the USA. The company offers their products exclusively through their website at Freedrinkingwater.com which also provides an extensive water filtration guide and library to the public. To learn more about APEC Water and the Total Solution system, please visit http://www.freedrinkingwater.com or call customer service at 1-800-880-4808 for more information.