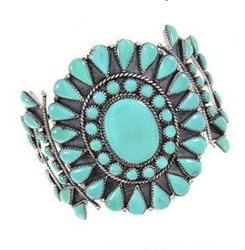 When you place a turquoise cuff on your arm you are donning a piece of history.
(PRWEB) August 13, 2013
Turquoise jewelry has been a fashion staple for generations. Few pieces can be more elegant than a turquoise cuff. Now, a new site has been launched celebrating the legendary past and current popularity of the turquoise cuff bracelet.
"When you place a turquoise cuff on your arm," states TurquoiseCuff.com spokeswoman Marlene Lange, "you are donning a piece of history and becoming a member of a long line of wearers of the distinctively American style of jewelry first crafted and popularized by the native tribes of the American Southwest."
Those tribes were working with the stone, notes Lange, before the introduction of silver working techniques by the Spanish conquistadors who swept north from Mexico in the 1600s. But the newfound knowledge of working with the glittery metal offered new possibilities for trading and adornment, and a tradition was born.
The various tribes found differing methods of using the same materials to produce beautiful objects, jewelry pieces which denoted wealth, status, honor and prestige; objects which could be used for commerce with other tribes; and pieces meant to symbolize certain beliefs, to ward off danger, or to heal bodily ailments.
Lange attests to the continuing variety and the stunning beauty of some of the historical pieces of "Old Pawn" jewelry which occasionally find their way to auction. "The demand for such museum-quality pieces of traditional Navajo jewelry," she noted, "is currently higher than ever before, due to a renewed interest in the history of the jewelry-making tradition of native tribes, and a respect for their culture."
Lange points to TurqouiseCuff.com as a resource for information about the history, the design variations, and the artists who craft turquoise cuff bracelets, worn by both men and women as simple adornment, or to fill practical purpose such as a watchband.
A turquoise cuff may contain a single large nugget as a showpiece stone. Or, said Lange, it may be in the Zuni needlepoint tradition, with a symmetrically intricate flower-like motif of small stones. The cuff, particularly if designed by a young artist, might contain a multitude of colored stones in addition to the turquoise, or a host of varying shades of turquoise, either cut and polished, or in natural form.
"The variety of modern turquoise cuff design is truly magnificent," said Lange. "A personal favorite is a silver cuff that mixes turquoise and pearls in a random pattern. It is a very dressy and classy piece."
"That is the point of owning beautiful jewelry," added Lange. "You must not be shy about wearing it. It gains a patina from use, and it offers so much pleasure."
For more information, please visit TurquoiseCuff.com.