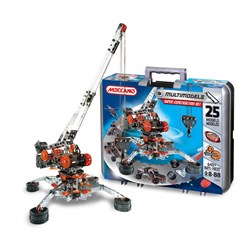 "Meccano is iconic and it has always been about creating toys that enable children and adults to imagine and create completely new worlds," said Anton Rabie, Co-CEO of Spin Master Ltd. "We are looking forward to building a future together."
Toronto, ON (PRWEB) August 14, 2013
Spin Master Ltd., Canada's largest children's toy and entertainment company, is transforming its organization through recent acquisitions and a strengthened executive team to build a more immersive toy, entertainment and gaming offering.
Hot off the heels of key successful acquisitions, including Spy Gear and Perplexus, Spin Master just acquired Meccano (known as Erector Set in the U.S.), the world's most timeless toy construction brand, with a 112 year history.
Spin Master has been known for its ability to innovate in the toy industry and the addition of Meccano offers exciting opportunities to expand the brand into new categories. Growing nearly 20% YTD 2013, Spin Master is strategically focused on driving immersive extensions to many of its toy lines through the creation of entertainment properties, companion applications, games and digital experiences that are suited for changing consumer play patterns.
"Meccano is iconic. It was founded in 1901 and has always been about creating toys that enable children and adults to imagine and create completely new worlds,"said Anton Rabie, Co-CEO of Spin Master Ltd. "This classic construction system has stood the test of time with phenomenal lines and we are looking forward to building a future together."
Ben Gadbois, Spin Master's Global President and Chief Operating Officer adds, "We are pleased to welcome Meccano and all its employees to Spin Master and are eager to grow the brand through our innovation process and distribution network. We want to thank the Meccano leadership team, 21 Centrale Partners and Lincoln International for the hard work and diligence through the acquisition process."
"We are extremely happy to be part of Spin Master and are excited with the culture and track record of continuous innovation," said Michaël Ingberg, Chief Executive Officer of Meccano. "I have the utmost respect and confidence in the Spin Master leadership team and am eager to help Spin Master position Meccano as an even stronger competitor in the construction category."
In the acquisition process, the decision was made to retain Meccano's manufacturing base and industrial facilities located in Calais- France, to optimize serviceability to European markets.
Spin Master's founders were also busy last year actively recruiting a world-class leader for the organization with a proven track record in value creation and strategic global management. This resulted in the addition of Ben Gadbois as Global President and Chief Operating Officer in the summer of 2012. The organization also added Krista DiBerardino as Chief Marketing Officer and Bill Hess as EVP Operations and Chief Information Officer in the 2nd quarter of this year. These additions were essential to support Spin Master's aggressive global growth plans in the toy, entertainment and gaming markets.
About Spin Master Ltd.
A multi-category children's entertainment company, Spin Master has been designing, developing, manufacturing and marketing consumer products for children around the world since 1994 and is recognized as a global growth leader within the toy industry. Spin Master is best known for such popular brands as boy's action phenomena and 2009-2010 Boy's Toy of the Year winner Bakugan Battle Brawlers™, and award-winning brands Air Hogs®, Aquadoodle™, Spin Master Games™ including the popular Hedbanz™, Tech Deck™, Zoobles™ and SpyGear™. The company has also marked an entry into children's media with the launch of Spin Master Entertainment, a subsidiary focusing on the design, development and production of television and other media properties. Spin Master employs over 900 people with offices in Toronto, Los Angeles, London, Paris, Hong Kong, Mexico City, Munich, and Milan. For additional information please visit: http://www.spinmaster.com.
About Meccano
Invented in England by Frank Hornby in 1901, Meccano was conceived as a model toy construction system comprising re-usable metal strips, plates, angle girders, wheels, axles and gears, with nuts and bolts to connect the pieces. The toy has sold under the "Erector Set"brand in the U.S. since 1913. Meccano enables the building of working models and mechanical devices and has inspired countless engineers, designers, architects and creative minds of all ages. Modern versions include new technologies to accelerate construction for even the youngest children. Meccano/Erector set toy products are currently sold in more than 50 countries. A large part of the Meccano range is manufactured in France in the historic factory of Calais. http://www.meccano.com