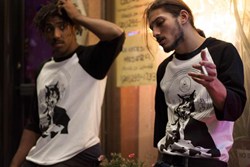 These shirts are not just fashion statements—they have stories behind them that people can ponder and discuss.
New York (PRWEB) August 14, 2013
Graphic clothing designer Case Ultra has pioneered a new T-shirt promotion offering subscribers exclusive designs on a monthly basis.
The service gives individuals access to trendy, unique styles without the cost of a custom wardrobe. Case Ultra frequently designs his shirts around a theme, including images that reflect current and thought-provoking messages. This month's design, "Government Wolves," portrays an image based on the Edward R. Murrow quote, "A nation of sheep will beget a government of wolves." Although the themes vary, all of the graphic prints feature a unique approach.
"My designs are influenced by ancient hieroglyphics, but incorporate modern trends and themes that provide people with the distinctive style they're looking for," said Case. "I'm inspired by today's most engaging subjects and believe that expressing an idea through clothing and design can help spark a conversation. These shirts are not just fashion statements—they have stories behind them that people can ponder and discuss."
By signing up, subscribers receive the T-shirts at lower prices than the shirts sold individually at the Case Ultra store. Subscribers pay $20 per month, and in return get a new T-shirt, stickers and a magazine booklet detailing the story behind the month's design. The shirts customers receive through the subscription service are not available for sale elsewhere on the company's website. The intent, according to Case, is to keep the shirts rare for the sake of his customers' personal style.
"The designs are only available for that one month to subscribers, and then they're gone forever," said Case. "We want our subscribers to know that they're getting a look they won't see imitated elsewhere, and at a price generic stores simply cannot beat. It's a form a brand loyalty that avoids people becoming walking advertisements."
Case created his Case Ultra line as part of Case Creative Group LLC, a company he founded in 2003. He incorporates his self-created graphics into a variety of clothing items included in the shop, such as hoodies, hats and sweatshirts. Different styles of hoodies and shirts are occasionally included in the monthly subscription service, depending on the season in which the item is released.
Interested customers can subscribe through Case Ultra's website, which not only displays the previous months' designs, but also other items for sale and a video highlighting the current month's featured T-shirt. To learn more and to sign up, visit http://www.caseultra.com/.