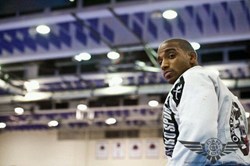 Baltimore, MD (PRWEB) August 13, 2013
Owner and Director of Performance, Shane Davenport of Exceed Sports Performance, hosted a Strength and Conditioning seminar for the athletes and competitors of Baltimore Mixed Martial Arts school Crazy 88 Brazilian Jiu Jitsu this past weekend.
Based out of Northborough, Massachusetts, Exceed Sports Performance (ESP) has developed a unique strength and conditioning system that uses programs to help athletes in a variety of sports achieve their fitness goals. This system allows the athletes to be able to continually progress and meet their ever-changing fitness needs.
During the 2012 season, the competition team at Crazy 88 BJJ implemented the circuits developed by Shane Davenport and the staff at Exceed Sports Performance. Over the last year the team has noticed considerable developments in the strength and conditioning compared to circuits the team had previously used.
Professional MMA fighter Aung La N Sang said, "I have been on Shane Davenport's program for over a year now and as a result I am more explosive. I am stronger, faster and more conditioned than I've ever been. I have moved down from competing at 205 lbs to the 170 lb division and although I expected to lose strength and power due to the weight cut I have actually gained a massive amount of power."
N Sang continues, "What I love about his program is that it listens to your body and this is what optimizes my gains. His understanding of the function of each exercise and how it translates to my sport is what makes him a top notch trainer. I look forward to continued progress with my fitness and can't wait to see what he can turn me into!"
For more information on Crazy 88 - Elkridge visit http://www.BaltimoreMixedMartialArts.com or call (443) 283-1450. For more information on Crazy 88 - Owings Mills visit http://www.Baltimore-MMA.com or call (410) 999-1064.