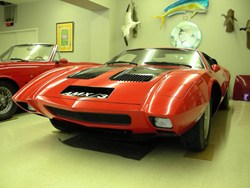 Monte Sereno, California (PRWEB) August 15, 2013
The collector car world is holding its annual celebration at the famous Monterey Car Week now. This includes many of the top classic car auctions in the world and it is important to note that not all of the outstanding collector cars are for sale at auctions.
An extremely rare AMC AMX/3 is now for sale on the popular classic car blog, My Car Quest. This AMC AMX/3 was the car used as the test car at the Monza racetrack by BMW and Bizzarrini. The same owner has owned this 1969 AMC AMX/3 for the last 24 years.
The AMC AMX/3 provides a ticket to an exclusive club – with only six total examples produced; this one being the test car means it will always be a unique entry to any car event.
These very rare super cars almost never came up for sale. But now, AMX/3 by Bizzarrini number 4 is for sale. This is a unique opportunity for anyone who appreciates the history, beauty and performance of this beautiful mid-engine design and wants a special car that most people have never seen in person.
About the AMX/3
In 1969, American Motors Corporation (AMC) was a distant fourth in automobile production in the United States and wanted to do something dramatic to try and change the outlook of their business. They introduced the AMX/3 mid-engine concept car at the 1969 Chicago Auto Show.
Although this was only a rolling chassis with a beautiful body designed by AMC's head of design, Richard Teague, it generated some attention. AMC needed help to turn this dream into a reality so they contacted Giotto Bizzarrini who was having business troubles of his own.
The engine for the AMX/3 is an AMC 390 cid V8 putting out 340 hp. It accelerated to 60 MPH in just 5.5 seconds. By all accounts, the AMX/3 was an excellent car and handled very well. BMW helped Bizzarrini test the AMX/3 at the Monza racetrack in Italy.
Unfortunately, AMC ran out of money and Bizzarrini was distracted by his own problems so the project was halted after only five cars were made, a sixth car was made with left over parts.
About My Car Quest
Mike Gulett is the publisher and writer of the popular classic car blog, My Car Quest, where he writes about classic cars, racecars, other cars that interest him and the people who made or drove those cars.
He has published a few books about classic cars, the latest being "Twenty-Five Affordable Classic Cars". He is also a car collector and writes from the perspective of a collector and an enthusiast.
Contact: Mike Gulett Email: mike(at)mycarquest(dot)com Mobile phone: 408-406-5439 Monte Sereno, California 95030 USA