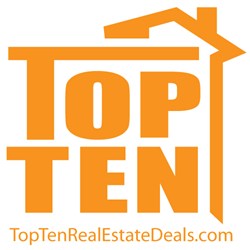 The glass house from the 1986 film "Ferris Bueller's Day Off" is also back on the market for $1.5 million.
Pompano Beach, Florida (PRWEB) August 14, 2013
This week, TopTenRealEstateDeals takes a look at homes for sale from American Sweethearts, Carrie Underwood and Suzanne Somers. Also, Steve McQueen's Pioneer Moon Ranch is for sale and Ferris Bueller's Chicago glass house is back on the market.
Suzanne Somers' Le Baux de Palm Springs
Suzanne Somers and her charming TV host husband, Alan Hamel, have created an earthy and glamorous Palm Springs, California estate which is now back on the market at $14.5 million, reduced from $35 million in 2008. Modeled after L'oustau De Baumaniere in Provence, France, Suzanne's compound is on 73 acres and set into the side of a craggy mountainside. Access is via a private funicular, a golf cart or a hillside of stone steps. But no cars. There are five buildings to explore with 10,000 square feet of pavilions. One houses the master suite, another dining and living room, a separate two-room kitchen and wine cellar and a stone guest house. There is also an outdoor amphitheater carved into the mountain that seats 50 and has a dance floor, as well as a pool, spa, hiking trails and natural waterfall that spills musically down the hillside.
The glass house from the 1986 film "Ferris Bueller's Day Off" is also back on the market for $1.5 million. At 4,300 square feet, the Chicagoland home consists of four bedrooms and four baths and is situated on one acre of wooded land. In 1958, the house was one of twelve homes in the nation featured in a Bethlehem Steel publication promoting the use of steel framing for residential design.
Carrie Underwood's Canada House
Carrie Underwood and hockey husband Mike Fisher build their dream home in Canada in 2010, but then Mike was traded to the Nashville Predators and Carrie already had a home in Nashville. So they are selling their Canadian home asking $2.2 million. Located on eleven acres in Carp, Ontario close to five golf and country clubs, lakes and the Mississippi River, the property is 6,000 square foot with five bedrooms and baths on three levels. The upper level contains bedrooms and a romantic master retreat with a large walk-in closet and dressing room. The main level has an attached three-car garage, mud room, eat-in chef's kitchen, great room, formal dining and a four-season enclosed sun room with its own fireplace. The spacious deck has a hot tub and is also perfect for entertaining. The lower level features a home theater, gym, wine cellar, family and game room.
Steve McQueen died in 1980, but his 500-acre Pioneer Mountain Ranch lives on near Ketchum, Idaho. At 1,410 square feet, it has two bedrooms, two baths, a full kitchen, living and dining area with large rock fireplace and a loft library. A separate log structure was added in 2010 which measures in at 1,731 square feet with a living room with bar, dining room, library, bedroom and 1.5 baths. It also has a 1,539 square foot, four-bay garage with workshop and loft. The current owners restored the existing log structure in 2004, and have listed it for sale at $7.4 million.
Real estate is never boring at TopTenRealEstateDeals. Check out today's most entertaining and unusual real estate news stories of the week. News such as America's top ten bargain mansions, presidential vacation homes and government lighthouses for sale.
Top 10 lists are available to media outlets for publication. TopTenRealEstateDeals free celebrity & famous home photos available at: http://bit.ly/toptenmedia .