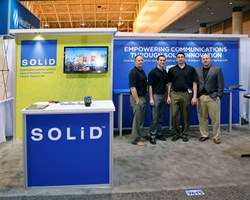 Visit Booth #13
Sunnyvale, CA (PRWEB) August 14, 2013
SOLiD, a publicly-traded global communications solutions innovator, announced today that the Company will exhibit with Repeated Signal Solutions, Inc., a leading provider of in-building wireless coverage systems and a Certified Value-Added Reseller (VAR) of SOLiD products and services, at the Health IT Summit in Seattle, August 21 – 22. The event takes place at the Seattle Marriott Waterfront and brings together C-level, physician, practice management and IT decision-makers from North America's leading provider organizations and physician practices.
SOLiD will demonstrate its ALLIANCE™ Distributed Antenna System (DAS) which ensures capacity and coverage for commercial cellular and public-safety communications inside and outside of medical facilities and hospital buildings. The best-in-class multi-service, "neutral host" Distributed Antenna System (DAS) supports cellular, public-safety, private 2-way radio and paging on a code-compliant, single-fiber architecture.
For a demonstration or to meet, please contact SOLiD.
Event Information:
Health IT Summit in Seattle
August 21 – 22
Booth #13
Seattle Marriott Waterfront
2100 Alaskan Way
Seattle WA 98121
Find more information about the conference at the Institute for Health Technology website (http://ihealthtran.com).
About SOLiD
SOLiD (http://www.solid.com) empowers capacity and coverage for cellular, public safety, and Wi-Fi services at large venues and campuses through innovative Distributed Antenna System (DAS) and carrier-grade Optical Network solutions for Small Cell Backhaul and Passive Optical LAN (POL) deployments. The company is grounded by a shared vision of advancing technology to solve wireless industry problems in new ways and supporting our customers and partners with world-class service. SOLiD counts among its global customers major wireless operators; leading hospitals; Olympic, professional, and college sports venues; metropolitan subways; government and Fortune 500 corporate campuses; and other marquee customer sites. Learn more at the SOLiD website, read our blog and follow us on LinkedIn and Twitter. For further information please email info(at)solid.com or call 888-409-9997.