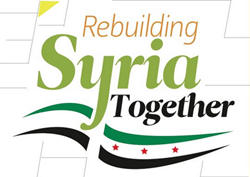 Gaziantep, Turkey (PRWEB) August 14, 2013
For people to survive in a violent conflict zone, where the state is no longer functional and essential services have broken down, organizing at the local level becomes vital. As the conflict in Syria rages on, communities are organizing at the local level across the country to fill the vacuum created by the contracting or non-existent state and to ensure the delivery of humanitarian assistance, restore basic services, provide governance functions, and hold their communities together. As part of its programs to promote a democratic transformation in Syria, the Syrian American Council (SAC), the nation's largest grassroots organization of Syrian-Americans devoted to building a free and democratic Syria, will be organizing Rebuilding Syria Together in Gaziantep, Turkey on August 26 and 27.
The international conference to be held in southeastern Turkey will help advance democratic governance on the ground through supporting the emerging Local Administrative Councils (LACs) in the 'liberated areas' of Syria. It will feature leaders of recognized civilian councils within Syria as well as dignitaries from the Etilaf (National Syrian Coalition) and representatives from the governments of the U.S., Canada and European nations. A delegation from the Syrian American community and expatriate organizations engaged in serving the needs of the Syrian people will also be in attendance.
The conference will consider four primary issues for discussion:
1. Good governance and local administration
2. Rebuilding local institutions, especially, Education
3. Medical care
4. Rule of Law
"The primary purpose of the convention is to provide a platform for Local Administrative Councils (LACs) and civilian leaders in Syria to connect with leaders of the Syrian-American community, U.S., Canadian, and European governments, and other international professionals to help them build and expand their capacity for democratic local governance," said Sohaib Al-Agha, SAC board member and lead organizer of the conference.
###
About Syrian American Council
Founded in 2005 in Burr Ridge Illinois, the Syrian American Council is the largest Syrian-American community organization in the United States. It serves to amplify the voice of the Syrian-American Community. SAC includes members from all segments of Syrian society, and has 22 chapters nationwide with thousands of supporters. It is an organization devoted to community organizing, awareness-raising, youth empowerment, media outreach, advocacy, and support for Syrians seeking to build a free and democratic Syria.