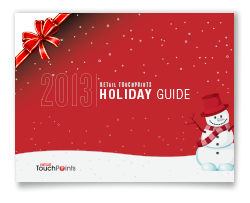 "Retailers need to become savvier every year , as consumers demand better inventory, prices and customer service."
Hasbrouck Heights, NJ (PRWEB) August 14, 2013
To help retailers prepare for the challenging and busy holiday season, Retail TouchPoints, the industry's go-to source for customer engagement strategies, has released the 2013 Holiday Outlook Guide, featuring insights from a number of leading industry experts, case studies, and a variety of tips and tactics to help deliver a successful holiday season to retailers, brands and consumers.
"Retailers need to become savvier every year, as consumers demand better inventory, prices and customer service, delivered consistently across channels," said Debbie Hauss, Editor-In-Chief of Retail TouchPoints. "Additionally, shoppers continue to make purchase decisions with a more frugal outlook, following the 2008 recession — putting even more pressure on retailers during the holidays."
A quick look at the report includes the following:
Key statistics from the 2012 shopping season show that more than one third of consumers spent less money than budgeted on holiday gifts, and that the majority of shoppers purchased more than half of their gifts on sale, according to TrendSource in its Holiday Shopping Outcomes report.
But some industry experts are expressing a more positive outlook about the 2013 season. Larry Freed, CEO, ForeSee Results, noted: "Tax breaks last year took money out of consumers' pockets, but there has been little talk of the impact that will have on holiday spending this year. However, I think spending will hold steady or will increase slightly this holiday season for the following reasons: The dip in paychecks due to the January 1st tax implications didn't seem to have a negative impact on spending so far this year. Additionally, the economy has somewhat stabilized and consumers' concern about the next financial pothole don't seem to be top of mind."
Greg Buzek, President, IHL Group predicted that growth will be modest. "Our economy remains one of the haves and have-nots. Unfortunately, unemployment and lack of a blockbuster item will keep growth modest. We are predicting about 3% growth, which reflects population changes and some modest increase in customer sentiment. Those that have jobs are a lot less concerned with losing them this year, however, uncertainty in health care costs going forward in 2014 has many concerned."
This year's guide is focusing on 11 different topic areas, including:
1. Omnichannel
2. Mobile Commerce
3. Mobile Apps & Sites
4. Social Channels
5. Pricing
6. Inventory
7. Personalization
8. Outbound Marketing
9. Showrooming
10. Workforce Management
11. Payment
For a complimentary copy of the full report, please click here or contact Debbie Hauss, Debbie(at)retailtouchpoints(dot)com, for interview opportunities.
About Retail TouchPoints
Retail TouchPoints is an online publishing network for retail executives, with content focused on optimizing the customer experience across all channels. The Retail TouchPoints network is comprised of a weekly newsletter, category-specific blogs, special reports, web seminars, exclusive benchmark research, and a content-rich web site featuring daily news updates and multi-media interviews at http://www.retailtouchpoints.com. The Retail TouchPoints team also interacts with social media communities via Facebook, Twitter and LinkedIn.