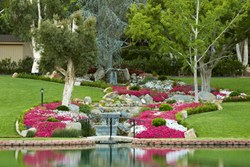 Conceived and developed by the McDougal family in the 1980's, Grand Tradition Estate and Gardens in Fallbrook, CA now welcomes public viewing of their newly expanded gardens for the first time in 30 years.
(PRWEB) August 15, 2013
Nearly thirty years ago, Grand Tradition opened for business and held its first event—a wedding—in May of 1984. Since then, the estate has expanded to thirty acres and the facilities and grounds continue to evolve into an elegant, unique and exciting destination. Recently announced as a Proven Winners® Signature Garden, nearly 20,000 Proven Winners and Proven Selections plants grace the grounds of Grand Tradition Estates and Gardens—which is now open each day for everyone to visit and enjoy.
This site is host to over 300 individual events a year, ranging from symphony and jazz concerts, to community-wide special event celebrations to their anchor business of weddings and receptions. Recognized throughout Southern California as a premier venue for weddings, the Grand Tradition has attracted brides from Hawaii, Japan and all over the United States.
A little over a year ago, construction began on a third garden venue on the property—The Compass Garden. Soon after that the Veranda Restaurant opened, offering lunch daily to visitors and garden enthusiasts. From the Veranda Garden visitors have a spectacular vantage point to take in the beauty of the estate. Compass Garden joins Arbor Terrace, a densely tropical garden and the more formal display gardens of Beverly Mansion.
Upcoming expansion plans includes 15 acres of additional thematic gardens, a winery and vineyard and the Compass Terrace—a patio area overlooking the waterfalls of Compass Garden, that will serve regional wines, craft beers and cocktails with light hors d'oeuvres nightly.
The next event on the schedule is Jazz and Wine in the Gardens on September 21st from 2:00 pm to 8:30 pm. Tickets are currently available online at http://www.grandtraditiongardens.com. For more information visitors can also call (855) 728-6466.