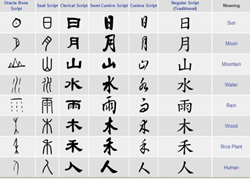 Mandarin is becoming a popular and useful language through economic globalization. It is also a very beneficial language for children's cognitive development as it is a completely different language to English and the Romance languages.
(PRWEB) August 14, 2013
At a local community center, the sound of children singing Chinese songs can be heard from one of its classrooms. The characters of the day are displayed on a board in the room, and around the classroom, children perform activities that involve these characters. Some practice calligraphy, while others sing songs. The instructor, speaking only in Mandarin, watches over the children as they thoroughly enjoy themselves. This is Milaa's Chinese Immersion(中文) program.
The Chinese Immersion program is a recent addition to Milaa, a company focused on developing early childhood learning events and programs and providing them to young kids. "After our successful launch in Toronto, we are excited to introduce our Chinese Immersion Program in New York City," says Paul Jan, Milaa's founder and a graduate of the Massachusetts Institute of Technology. "We teach children Mandarin in a fun, interactive, and memorable way," says Jan.
Research has shown that children who have learned a second language early on demonstrate certain cognitive advantages over children who have not, and subsequently have been shown to have higher reading and math test scores than children who do not know a second language. "Chinese is a great language to stimulate cognitive development in children," says Claire Tsai, visiting professor of marketing at Columbia University who received her Ph.D. from the University of Chicago. "It is a completely different language in every single angle – grammar, form, and pronunciation - that will stimulate children to develop verbal, reasoning, and problem-solving skills. As research has shown, learning a language is very much a cognitive problem-solving skill, similar to mathematics," says Tsai.
Milaa's Chinese Immersion Program is unique and different from other programs in that it utilizes the memory-by-association technique to help children remember the characters and phrases in the long term. Its interactive story theater builds imagery for the key characters and phrases through live props, puppets, and active participation from the children. For example, when learning the characters for rain and water, children are asked to pronounce these characters in Mandarin while making the sound of water splashing and moving their fingers vertically to mimic raindrops falling from the sky. Children are then encouraged to recreate the story as a form of repetition to help them recall and remember. Finally, children transform the imagery onto paper through calligraphy. "This method is more time-consuming, but research has demonstrated the positive effects of using such methods to help children remember what they have learned in the long run," says Tsai. "Children can also apply similar techniques to help them remember other events or information later in life."
The results from Toronto have been positive. "We have observed that the children remember how to pronounce the words and phrases several days after hearing and seeing them, which, the majority of the time, was due to various image-association techniques that were used," says Jan. "Children who were asked to recall difficult characters were able to do so by making corresponding sound effects or hand gestures. This was exactly what we were hoping for, and we are certainly looking forward to seeing more of this in New York."
The Chinese Immersion Program in New York City will begin in September 2013. Sessions available daily, and advanced registration is required.
About Milaa
Milaa, an acronym that stands for Morality, Intelligence, Leadership, Athletic, and Artistic, was founded with the following principles:
1. Holistic approach enhances learning, especially at a young age
2. Sensory experiences and the sense of imagination are essential for child development
3. Milaa aims to build a community for parents who appreciate the holistic approach
Milaa's vision is to educate parents concerning the importance of the holistic approach to learning, provide the essential sensory experience for a child's development, and create a community to preserve and advance a child's development.
Milaa is founded in 2013, and is based in Toronto, Ontario, Canada. For more information please visit its website at http://www.milaainfo.com