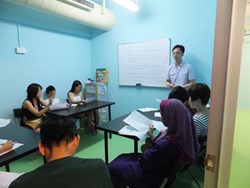 I learnt the type of concepts and how to support our child. From John, I had learnt some great tips on how to reassure my child.
(PRWEB) August 14, 2013
John Yeo is not a fresh name among parents whose children need PSLE maths tuition. In fact, Yeo has been keeping a consistent 100% track of helping students go from a fail in the subject.
Yeo's groundbreaking technique has made him a highly recommended PSLE maths tutor in Singapore. Instead of conventional tutors who simply train students to "practice more" questions on mock exam papers, Yeo tackles the deeper problem – psychology.
He believes that a student who feels stressed tends to develop a fear towards a subject, which can hinder any progression or improvements. This can become a dreadful downward spiral into failing the subject, with the student believing that he can never make the passing grade.
Yeo helps his students overcome these psychological barriers before teaching his students how to solve various maths problems.
And Yeo's success stories have proven his abilities. Parents have commended him for helping their children break the chains, with some even improving to a 'A' grade from consistently getting an 'F.'
In his upcoming PSLE Maths workshop for parents, Yeo intends to give tips to parents on how they can reduce their children's exam stress and anxiety. This is a crucial factor in the learning process as a child's attitude affects the absorption of knowledge.
Yeo will also share 12 heuristic concepts and how to solve them. Most students tend to get stuck when faced with more difficult questions. By helping parents and students identify the requirements of a question, they can then easily tackle the questions with the right approach.
Yeo hopes to equip parents with the right skills and strategies to help their children tackle these questions with confidence.
And what have parents said about Yeo's unique approach in PSLE maths tuition?
One said, "I learned to guide my daughter and to motivate her accordingly. I even learnt about the right attitude to guiding her," while another commented "I learnt the type of concepts and how to support our child. From John, I had learnt some great tips on how to reassure my child."
While parents have recognized that Yeo's abilities, he also hopes to highlight the impact of a parent's positive attitude – a happy child who is reassured, and has the confidence to tackle challenges.
To find out how the PSLE Maths Workshop for Parents can help you become a supportive parent as your child prepares for the PSLE maths exam, visit P6AStarMaths.com.