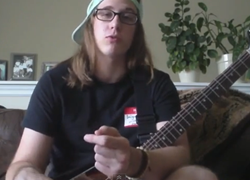 "Eddie Van Halen is the man to study if you want to get in to tapping because he more or less invented it,"
New York, NY (PRWEB) August 14, 2013
To help both learning and experienced guitarists master the lead guitar techniques popularized by Eddie Van Halen, GuitarControl.com continues its "two-hand tapping" lesson series with a video from instructor Cameron Rasmussen. In Part Two of the series, available on YouTube, Cameron demonstrates a tapping pattern that gives to help guitarists break free of the traditional one or two-note tapping licks.
"Eddie Van Halen is the man to study if you want to get in to tapping because he more or less invented it," Rasmussen says.
Tapping is a popular and useful technique, but lends itself to repetition and overuse. Guitarists often get stuck playing the same tapping licks over and over again, severely limiting their improvisational range. For this reason, Cameron shows guitarists how to play a tapping lick in a pattern that implies a chord progression and produces a unique sound in this lead guitar lesson. By moving the tapping lick up and down the scales, Cameron shows how new and innovative sounds can be created using this tried-and-true guitar shredding style.
The technique takes a great deal of practice to master, but Cameron helps beginners get a grasp of how to play tapping licks by slowing his lesson down. He shows this lead guitar lick note-by-note, allowing players to follow along until they are prepared to play more rapidly. When played on an electric guitar through an amplifier, tapping licks can be downright mesmerizing.
For guitarists looking to practice the tapping lead technique outlined in the video, tabulatures and sheet music are available in a link in the video description. Part One of the lead guitar lesson is also available, in which Cameron lays out the basics and theory of tapping, and gives guidance on switching between tapping licks and other lead guitar techniques.
Eddie Van Halen of eponymous 80's rock band Van Halen is one of the most well known and frequently imitated guitarists of all time. His style influenced countless guitarists and keyboardists in a range of musical styles. With radio dominating hits like "Panama" and "Jump," Van Halen shot to stardom in the 1980s, due in large part to the virtuosic talent of the band's namesake.
GuitarControl.com is packed with resources, video tutorials and lessons, articles, and affordable DVDs to help new guitarists learn and experienced guitarists master their instruments. Guitarists of any experience level find guitar lessons from instructors with a broad array of music backgrounds and styles - blues, jazz, metal, classical, folk, progressive rock, punk, and everything in between. Guitarists can find relatable, easy-to- follow videos regardless of their ability or musical tastes.