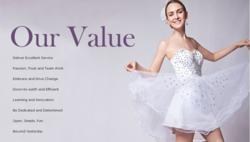 (PRWEB) August 14, 2013
Dresses1000.com, a leading supplier of women's dresses, is now offering summer specials with discounts of up to 60% on its vintage prom dresses. Moreover, many new items, like pink Quinceanera dresses, bridesmaid dresses and flower girl dresses have been added to its catalog.
"In the online marketing, we try our best to avoid tossing marketing dollars in the wind and hoping it lands somewhere good. Now, we are excited to launch the promotion, and we can provide all dresses for a wedding," says, Sherri Wang, CEO of Dresses1000.com. "We have a rich experience of 10 years in the manufacturing and retail of women's dresses; we have a vast knowledge of craftsmanship and consumer needs as well."
She adds, "We encourage our clients in the global market to take advantage of this offer and come to visit our online store. We are constantly searching for the most effective way to stretch every dollar spent, extend our reach, and exceed their competitors."
As a leader in the industry, Dresses1000 is running in front of others, offering thousands of high quality wedding dresses and other dresses to clients worldwide. For those looking for special-occasion dresses, they can own their favorite dresses with some clicks of a mouse now.
About Dresses1000.com
Dresses1000.com is a professional manufacturer and retailer of all kinds of women's dresses (white Quinceanera dresses, bridesmaid dresses, and more). Its mission is to 'make ladies more attractive' by offering stylish and high-quality women's dresses to each woman. The company is trying to offer their customers more choices with affordable prices.
For more information, please visit: http://www.dresses1000.com.