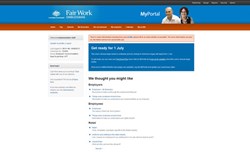 Elcom offers us both the out-of-the-box solution and the business partnership required for continued success.
Sydney, Australia (PRWEB) August 15, 2013
Elcom, a leading provider of .NET enterprise web content management solutions is pleased to share the launch and success of 'MyPortal', The Office of the Fair Work Ombudsman's online customer portal.
The Office of the Fair Work Ombudsman (FWO) is a statutory office created by Fair Work Act 2009 to provide Australian employees, employers and contractors with workplace related advice and services. The organisation employs 760 full time staff across several offices in Australia.
In December 2012, Elcom was awarded the 'Website Portal Solution' contract, following a request for tender that was released in September 2012. Global software providers were invited to propose a solution that would allow the FWO to deliver an online customer engagement and self-service portal.
The FWO were specific that they did not want to engage in an exhaustive build exercise, which is often attributed to custom-developed packages, and were looking for a solution to help drive efficiencies that were stressed through the significant amount of customer's calls made to its dedicated call-centres. The vision was to drive more customer interaction to the portal with informative and rich content and reduce the stress on current call centre resources.
After an extensive analysis and review process, elcomCMS was selected for its ability to offer an agile, feature-rich solution out-of-the-box that could help future proof FWO's long-term strategy. During June 2013, FWO successfully launched 'MyPortal', a self-service online tool that allows individuals to build a personal profile, securely access awards that they have registered for, lodge enquiries, calculate pay rates and favourite any one of the 4,000 pages, best-practice guides and templates found on the FWO public website.
MyPortal takes full-advantage of elcomCMS' innovative modules and functionality, including Dynamic Widgets and Taxonomy, which come standard with the platform. Being a content and information rich portal, Dynamic Widgets and Taxonomy allow the FWO to very easily categorise, surface and display targeted content, enhancing overall user experience for portal users and administrators.
Michael Clark, Executive Director, Fair Work Infoline said, "Technology has changed the way we access and absorb information. Between 2011 and 2012, we dealt with almost 800,000 requests for assistance over phone, live chat, email and mail. Our website also experienced over 6.5 million visits over that year." Clark added, "The demand to deliver services 24/7 is growing; engagement requirements differ from user-to-user; and as an organisation we need to ensure that we have the ICT infrastructure to adapt and meet strategic objectives. Elcom offers us both the out-of-the-box solution and the business partnership required for continued success."
A comprehensive explanation and walkthrough of the MyPortal site is available here: http://www.fairwork.gov.au/resources/myportal/pages/default.aspx.