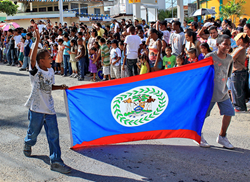 It's been said that Belize has the longest holiday season in the Western Hemisphere.
San Ignacio, Belize (PRWEB) August 16, 2013
Even though it's still summertime, the Belizean tourism industry has already begun preparations for this year's September-to-Christmas holiday season, according to a vacation planner at The Lodge at Chaa Creek, a popular eco resort in this tiny Caribbean nation.
Bryony Fleming Bradley, who is also Chaa Creek's assistant general manager, said that due to the length and the many activities taking place during Belize's long-running holiday season, it's never too early to start planning.
"It's been said that Belize has the longest holiday season in the Western Hemisphere, and while that's not official, it certainly seems true to those of us in Belize's hospitality business," she said.
Ms Fleming Bradley said that Belize kicks off its end-of-year-festivities early in September when preparations begin for St George's Caye Day on September 10. Commemorating the Battle of St George's Caye in 1798 when the early settlers of what became British Honduras engaged and defeated a much larger Spanish invasion force, it is seen as the emergence of Belize's national identity and leads up to Belizean Independence Day, celebrated on the 21st of September to mark Belize's entry as Central America's newest nation in 1981.
The date also marks the opening of The Lodge at Chaa Creek, occasioning a month-long mutual birthday party at the eco resort, Ms Fleming Bradley said.
Pan American Day is held on the 14th of October this year, followed by Halloween on October 31, Thanksgiving Day on the 28th of November, Garifuna Settlement Day on the 19th of November, and a variety of individual village and cultural fiestas held throughout the country in the lead up to Christmas, Boxing Day and New Year's.
While Thanksgiving and Halloween are not official national bank holidays, Ms Fleming Bradley said that they're still widely celebrated in Belize, with Chaa Creek throwing a month long all-inclusive Thanksgiving vacation package that has grown in popularity over the years.
Garifuna Settlement Day is a distinctly Belizean holiday celebrating the arrival of that ethnic group on Belize's shores in 1832 after being exiled from St Vincent's Island by the British. Also known as the Garinagu, they are a vibrant culture with their own distinctive traditions, language, and music, which were proclaimed as "a Masterpiece of the Oral and Intangible Heritage of Humanity" in 2001 by UNESCO. The official holiday is marked with re-enactments, drumming, dancing, feasting and cultural expositions.
"By the end of November, everyone is limbered up and ready for the non-stop partying leading up to Christmas on the 25th, Boxing Day on the 26th and on through to New Years," Ms Fleming Bradley said.
"If it wasn't so exhilarating, it would be exhausting, but Belizeans love a good party and have perfected celebrating down to a fine art. So from September onwards, the air is filled with music, the aroma of barbeques, laughter and singing," she said.
Ms Fleming Bradley advised that, due to Belize's growing popularity as a travel destination and increased awareness about the unique holiday season, people should start making their Belize vacation plans now. "For example, with our Rainforest to Reef all-inclusive Belize vacation packages, people can enjoy the holiday season inland among our pristine rainforests and ancient Maya cities and temples, and then spend Caribbean time on Belize's Great Barrier Reef and lively party spots such as Ambergris Caye and Placencia.
"It's like having two different holidays all in one, but spaces will be limited so it's important to book early," she said. "And as anyone who has spent the holidays here in Belize knows, it's well worth it," she added.
The Lodge at Chaa Creek is an award winning eco resort set within a 365 acre private nature reserve in Belize.