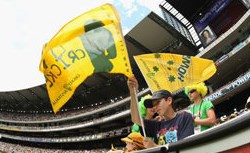 (PRWEB UK) 15 August 2013
Freedom Australia offer an unrivalled choice in delivering tailor-made holiday solutions Down Under. In celebration of England retaining the Ashes, Freedom Australia are delighted to announce a wide range of touring options for fans to enjoy the fifth Test of the Commonwealth Bank Ashes Series in Sydney. The fifth and final Test will be held in Sydney from 3 to 7 January 2014, providing the perfect opportunity to combine one of the most exciting sporting spectacles with one of Australia's most exciting holiday destinations.
With England having retained the 131-year-old competition - thanks to a little help from the famous Manchester rain forcing the third Test to be drawn at Old Trafford - the Aussies will certainly be looking for revenge on home soil later this year. So why not soak up the Ashes atmosphere in Sydney and cheer England on?
The Commonwealth Bank Ashes Series will span the Australian summer, from November 2013 to January 2014, enabling travellers plenty of flexibility to make the most of their Ashes adventure with customisable pre- and post-touring options.
For travellers looking to explore the best of Sydney and New South Wales, Freedom Australia have put together an 18-day Ashes and Around Sydney package. The package boasts an itinerary jam packed with New Year's fireworks, vineyards, national parks, golden beaches and, of course, that ever so satisfying sound of willow striking leather, all available for a competitive £3209 per person, including return Economy international flights with Qantas.
Beginning on 29 December 2013, the Ashes and Around Sydney package quickly embraces one of the world's biggest parties - Sydney's New Year's Eve - famous for featuring the world's largest and most technologically advanced New Year's Eve fireworks display. After exploring the sights and sounds of Sydney, it's onto the main event itself - the fifth Test of the Commonwealth Bank Ashes Series - taking place at the iconic Sydney Cricket Ground. Five potentially nail biting yet exciting days spent here are followed up by a self-drive adventure taking in the Blue Mountains, Hunter Valley and Port Stephens, all as part of one handily organised package.
For those with more modest budgets, Freedom Australia's Sydney Test Packages - available at £2,255 and £2,458 per person based on six nights' standard or deluxe accommodation, and including return Economy international flights with Qantas – offer a shorter holiday, yet are still bursting with all the thrills and spills of the Commonwealth Bank Ashes Series. Both options include free time to explore Sydney's sparkling harbour, iconic buildings, vibrant nightlife, or diverse surrounding regions, at leisure.
Alternative Commonwealth Bank Ashes Series-enthused tours include a £2,555 to £2,865 Sydney Test & New Year option, as well as ultra flexible Official Sydney Ashes Function tickets – available at £58 per person and boasting exclusive access to stellar ex-professionals, special guests, dining and first class entertainment.
To find out more visit http://www.ashes2013cricket.co.uk/Sydney or call 0800 2300 943.