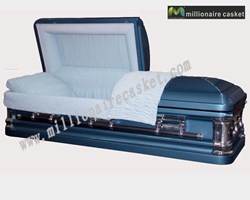 (PRWEB) August 14, 2013
Recently, MillionaireCasket.com, a well-known casket wholesaler, has proudly launched its special offer on metal caskets (see: http://www.millionairecasket.com/). Now, all casket distributors can get a discount, up to 29% off, when buying metal caskets at MillionaireCasket.com.
The metal caskets from MillionaireCasket 100% manufactured with the high-quality craftsmanship and materials, and come with a special locking system that makes the metal caskets difficult to open once it has been closed.
"We are excited to launch the promotion, and make our products available to more distributors worldwide. Our metal caskets have a good market performance, and have greatly stimulated our company's business growth in the past few months," says, the CEO of the company.
A casket from the USA said, "We've been meeting with MillionaireCasket for the past several months, and we are pleased that such an innovative casket company has chosen us as a close partner. Actually, we have placed our senior managers to work with this reliable supplier to meet the needs of the US customers."
Besides caskets, MillionaireCasket.com offers an exquisitely crafted line of all kinds of metal caskets, solid wood caskets, veneer caskets, cremation caskets, rental caskets, orthodox caskets, infant or over-sized caskets and European style coffins. The company aims to be a one-stop funeral supplier.
About MillionaireCasket.com
MillionaireCasket.com is a leading China casket manufacturer, and focuses on the business of casket wholesale. The standard quality control policy is strictly applied here, and a third party quality assurance is also available.
More details can be found at http://www.millionairecasket.com/category/product/metal-casket/.