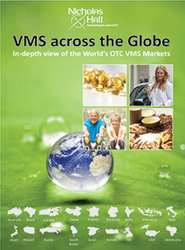 Taking around 30% of global OTC sales, VMS is the largest and most significant category in the OTC industry.
(PRWEB UK) 15 August 2013
A brand new report from the OTC specialist, Nicholas Hall & Company, will publish a report on VMS (Vitamins, Minerals & Supplements) around the Globe. The report will take an in-depth look into this dynamic category focusing on 18 countries; which account of 83% of the global VMS market.
The report strives to answer the following questions:

Why are fish oils flourishing in some markets but floundering in others?
What's behind the soaraway growth in single vitamins in Brazil?
What's at the heart of Elevit's success in China?
Which countries offer the best opportunities for future growth?
What will be the impact of the recent spate of M&A activity in VMS?
Nicholas Hall's comprehensive category report will keep OTC players ahead of competition providing OTC sales figures from DB6 Global OTC Database. 'VMS across the Globe' will feature the most up-to-date OTC sales data anywhere, showing 2013 OTC sales, from category toplines down to brand level as well as crucial sales forecasts to help marketers plan.
Categories covered in the report include: Multivitamins, single vitamins, minerals, hair & beauty supplements, herbal & natural supplements, herbal memory & brain health, herbal & natural joint health, herbal & natural immune stimulants, herbal menopause supplements, probiotics, tonics and cure alls, OTC tonic drinks, and chyawanprash.
Download the brochure to find out more about the report contents: http://www.nicholashall.com/nicholas-hall-reports/reports/item/VMS_across_the_Globe/.
Save over 20% off for all orders received before the 20th September 2013.
About Nicholas Hall Reports:
Our reports draw on the in-house expertise of our specialist analysts and researchers, on the-ground knowledge from our Network Partners, and Nicholas Hall's unique insights, plus the latest sales data from our DB6 global OTC database. Each title provides in-depth analysis, identifies major trends and developments, highlights consumer preferences and forecasts future trends.
View Nicholas Hall's Reports Library: http://www.nicholashall.com/nicholas-hall-reports/reports/
Contact: Valerie Tsang, Group Director of Marketing & Sales
val.tsang(at)NicholasHall(dot)comCompany
Website: http://www.NicholasHall.com