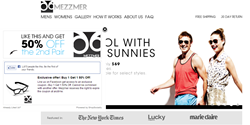 We are seeing a strong growth in our fan base, user engagement, and sales conversion by utilizing ShopSocially's platform.
(PRWEB) August 16, 2013
Mountain View, California (Aug 16, 2013) – Mezzmer Eyewear, retailer for stylish eyewear at an attractive price, has reaped impressive benefits by making its e-commerce website more social. Mezzmer worked with the leading social commerce platform, ShopSocially, to add a suite of social modules on its website. These social modules have resulted in a significant increase in customer engagement, sales conversion rate and word-of-mouth branding.
Mezzmer realizes that eyeglasses are not just a style-accessory but a life-long necessity for users; making it important for Mezzmer to establish a long-standing relationship with its customers. A good starting point for this is to convert its website visitors into Facebook fans and email subscribers to maintain a continuous meaningful dialogue with them. Mezzmer found ShopSocially's social commerce platform to be best-suited for this requirement. Adding these social engagement modules on its website, Mezzmer immediately saw an impressive gain across the following metrics:

9-fold increase in Facebook fan base in less than a year
1 out 3 fans also converted into email subscriber
76% increase in user engagement on website
5.7 times higher sales conversion rate for social traffic
"We are seeing a strong growth in our fan base, user engagement and sales conversion by utilizing ShopSocially's platform." commented founder of Mezzmer Eyewear Mr. Roger Lee. "Their social commerce apps got installed on our website in minutes and have been very easy to maintain."
Easy-to-install social commerce apps from ShopSocially formed a perfect solution for Mezzmer who, like most other retailers, has many demands on its IT team. Often technical integration and ongoing maintenance becomes one of the key stumbling blocks in implementing any new technology.
"We are pleased to see Mezzmer's success. It proves that any retailer can significantly benefit from social phenomenon using smart, performance-driven social commerce strategies." said Jai Rawat, CEO of ShopSocially. "The key is to add social engagement in context of commerce rather than the other way around. This can be email campaigns, e-commerce website and even offline via mobile."
About Mezzmer
Mezzmer Eyewear offers a wide variety of eyeglasses, sunglasses and prescription eyeglasses online. Committed to raising self-esteem of the young and the bespectacled, Mezzmer eyeglasses attempts at making their customers look smarter, more creative and innovative. Tracking the latest style trends, Mezzmer products are of designer quality and appearance. Without compromising on the style or quality aspect, Mezzmer has struck a fine balance of offering designer eyeglasses at attractive prices, making it popular among the fashion-conscious youngsters.
About ShopSocially
ShopSocially is a SaaS social commerce platform driving millions of dollars in incremental revenue, new customer acquisition, improved SEO rank, growth in Facebook fan base, and word-of-mouth branding for 100s of top brands.
ShopSocially platform enables a suite of onsite social apps for ecommerce sites. Examples of these apps include Ask-a-Friend, purchase sharing, fan acquisition, shopping community, social reviews and more. ShopSocially has won several awards and has also been featured by Facebook in a Social Commerce case study. Launched in Oct 2010, ShopSocially is a privately held company in Mountain View, CA. For contact information, please visit https://shopsocially.com/platform/contact-shopsocially.html.