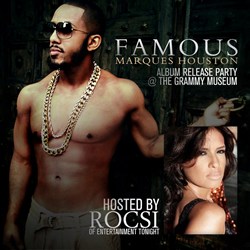 I want the world to discover the music and know that my album is all about love!" says Marques Houston.
Los Angeles, CA (PRWEB) August 14, 2013
American television personality Rocsi Diaz is best known as the former host on BET's 106 & Park and hosts her own daily nationally syndicated radio show, "Rocsi on the Radio". In 2012 she was announced as a news correspondent of Entertainment Tonight. She is now set to host the highly anticipated album release party for Marques Houston's forthcoming album "Famous" at The Grammy Museum at L.A. Live.
ITunes features Marques Houston's new album "Famous" Noteworthy on the cover of their R&B page for iTune users to discover the music. This feature from iTunes is a very big deal for Marques Houston's return to the music industry after a three-year hiatus. His new album "Famous" is being reviewed as a classic album, and named one of the best musical and vocal performances of his career. With the recent buzz from industry professionals on the Grammy Board and at the American Music Awards, the music industry is expecting a fantastic taste-maker album called "Famous" from Marques Houston.
"This one is different because I've grown, I've matured and I see music a lot different than before. This album is very soulful like a Prince or D' Angelo vibe. It is very musical and very heartfelt. I want the world to discover the music and know that my album is all about love!" says Marques Houston. Mr. Houston plans to perform an hour long set with his band in the Clive Davis Theater of the Grammy Museum at L.A. Live for select fans, industry professionals, and a slew of celebrity guest.
"I want to bring back the days of jam sessions for R&B music especially since this album is so musical," says Marques Houston. Many plan to attend this private industry party celebrating Mr. Houston's return and release of his album "Famous". Mr. Houston's new album "Famous" will be released in stores and on iTunes on August 27th.
"I'm so excited and humbled that the Grammy's wanted me to have my Album Release Jam Session at their location. I recently had the honor to participate in the Grammy Summer Session classes where I was able to perform with my band and answer questions from gifted kids that were selected to participate in the summer session classes from the Los Angeles area," says Marques Houston.
Marques took a brief three Year hiatus from his music career to focus on producing movie projects. Within that time Mr. Houston produced four movies. Marques was recently featured in the UP Entertainment Television network movie called "The Love Letter" where he starred alongside Romeo Miller, Keisha Knight-Pulliam, and long time friend from "Sister, Sister" Jackee Harry. In talking with Mr. Houston he mentioned that he received a lot of requests for his music return from social sites.
"I took a few years away from music to work on my film and television career. I would still do shows, make appearances, and everywhere I went, my fans requested new music, so it finally hit me to record a new album and the entire process in the studio was trying to make great music for the fans out there," says Mr. Houston. For this Album "Famous" Marques Houston filmed a three-part documentary that will be featured on VEVO.com, the leader in music videos. In this documentary Marques goes behind the scenes of his rehearsal, prep for his album, and getting back into the studio to create the masterpiece called "Famous".
"I'm really excited about my documentary premiering on VEVO. It allows me to give an up close and personal look at this album directly to my fans."
The highly anticipated album "Famous" will be available on August 27th. Marques Houston will be doing a major market tour to give his audience a feel of his new style of music with his band. He plans on rocking the stage with "Unplugged" style jam sessions.
To learn more about Marques Houston, visit his official website: http://marqueshoustononline.com/. For media inquiries, please contact Rick Lee rickalee.1972(at)gmail(dot)com or marqueshoustonbooking(at)gmail(dot)com.
Pre-Order "Famous" on iTunes https://itunes.apple.com/us/album/famous/id683446381 .
Marques Houston VEVO: http://www.youtube.com/user/MarquesHoustonVEVO