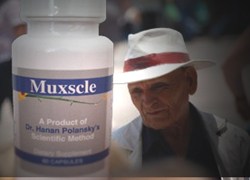 With a looming crisis due to overwhelming numbers of stroke cases in coming years, healthcare officials and doctors should begin addressing latent viruses. - Mike Evans, polyDNA
Rochester, NY (PRWEB) August 15, 2013
A crisis is looming in the healthcare system. Mexican Americans have many more strokes than non-Hispanic Whites in the United States, according to researchers from the University of Michigan in a paper published on July 19, 2013 in the journal Annals of Neurology (2). Combine this with the fact that Mexican Americans will make up over 30% of the population by 2050 (2). This will result in a substantial increase in the number of stroke cases in the upcoming years.
polyDNA suggests dealing with the looming crisis now with Muxscle.
polyDNA believes the best strategy for preventing stroke in all populations is targeting latent viruses, which cause a majority of strokes. Because many doctors do not treat the possible viral infection, they do not help their patients reduce the primary stroke risk.
Muxscle is a clinically proven antiviral, oral supplement that targets the latent viruses which cause stroke. It was clinically tested by scientists at the Center for the Biology of Chronic Disease (CBCD), and shown to be safe and effective. (3)
Each capsule of Muxscle contains a patented formula of five all natural ingredients including selenium, camellia sinesis extract, quercetin, cinnamomum extract, and licorice extract. In addition, each bottle is GMP Certified. (4)
To learn more about Muxscle, visit http://www.muxscle.com.
Without Muxscle, the "estimate of the cost of stroke for the first half of the 21st century suggested a staggering price tag of $1.52 trillion, approximately equal to one year of the United States gross tax revenue. The cost of stroke is significantly higher in minority populations where stroke occurs at younger ages and with greater resulting disability. (2)"
"With a looming crisis due to overwhelming numbers of stroke cases in coming years, healthcare officials and doctors should begin addressing latent viruses. We believe that the best natural product on the market today to target latent viruses is Muxscle." – Mike Evans, polyDNA
References:
(1) http://www.uofmhealth.org/news/archive/201308/stroke-declines-dramatically-still-higher-among-mexican
(2) http://onlinelibrary.wiley.com/doi/10.1002/ana.23972/pdf
(3) http://www.cbcd.net/strongstudy.htm
(4) http://www.muxscle.com
###
polyDNA is a biotechnologyy company that develops dietary supplements using the unique scientific method developed by Dr. Hanan Polansky, which is based on Computer Intuition.
In addition to his unique scientific method, Dr. Polansky published the highly acclaimed scientific discovery called Microcompetition with Foreign DNA.
The discovery explains how foreign DNA fragments and specifically DNA of latent viruses cause most major diseases. polyDNA developed Muxscle, an antiviral natural remedy that helps the immune system kill latent viruses and prevent secondary stroke.