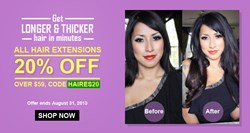 Uniwigs Offers 20% off For Its Hair Extensions
City of Industry (PRWEB) August 16, 2013
Get longer and thicker hair in seconds with uniwigs.com hair extensions and enjoy 20% off!
The leading online wigs provider-uniwigs.com offers 20% off for its hair extensions, including clip in hair extensions, flip in hair extensions and tape hair extensions.
Uniwigs offers three kinds of hair extensions, like clip in hair extensions, flip in hair extensions and tape hair extensions. The most popular hair extensions are clip in hair extensions, which are easy to wear and have no damage to people's hair. The new hair extensions are flip in hair extensions, which are the revolutionary new alternative hair extensions that can offer people instant transformation to thicker and longer hair. Unlike the traditional hair extensions, which are attached to people's own strands of hair, the new flip in hair extensions comfortably attach themselves around people's head by a transparent miracle wire which is undetectably hidden under people's own hair. Flip in hair extensions can be attached in seconds, removed in seconds and are easier to apply than clip in hair extensions. Simply place the flip in wire on people's head, pull people's own hair through over the wire, then the flip in hair extensions can rest perfectly on people's head and blends naturally with people's own hair. With the aid of the adjustable transparent wire, the flip in can fit any head shape or size perfectly.
Extensions need regular care
Hair extensions are luxury and fashion accessories. There is no such thing as wearing quality hair extensions for 6 months without any maintenance or retightening. Considering this? When people have hair colored they have to return to salon at least every 6-8 weeks to have the roots touched up.
They are temporary and are used to give volume, color, length or to solve a problem be it short term or long term. Having hair extensions professionally maintained by qualified technician will ensure people have no problems. People will need to visit their hair extension technician at least once a month.
About UNIWIGS.COM
UNIWIGS.COM was founded in California aiming to provide top quality wigs at reasonable prices to customers around the world. With many years of experience in the hair and beauty industry, uniwigs.com team of professionals provides customers with designs using both natural human hair and synthetic hair. Uniwigs.com's fashion-forward designs include super light-weight construction, comfortable easy- fit manageability, and unparalleled realness that will leave you feeling confident every day.
Contact:
Website: uniwigs.com
Facebook: http://www.facebook.com/uniwigsonline
YouTube: http://www.youtube.com/user/uniwigs