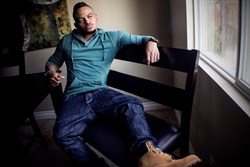 I wanted to create a musical series for television that my children and I could enjoy together as a family.
Los Angeles, CA (PRWEB) August 14, 2013
"I'm a huge fan of the arts. I remember the days when one of my good friends Debbie Allen choreographed the original hit TV show FAME. It was an original show that the entire family could watch, enjoy, and learn something from," says Chris Stokes, music mogul, director, TV and film producer.
As Chairman of Footage Films and Silent Partner Entertainment Group, Mr. Stokes is proud to provide opportunities to talented people interested in pursuing film, television, and music. With the success of his mega-hit 2004 movie, "You Got Served," Chris Stokes is excited about what he and his team have in store for 2013 and 2014. Not just for what's coming to the box office, DVD, and television, but how Footage Films and Silent Partner has the ability to offer opportunities to undiscovered talent seeking careers in film, television and the music industry, and also giving jobs and internships to people out there aspiring to work behind the scenes in the film, television and music industries.
In talking with Mr. Stokes, I asked him about the musical Howard High. He described the musical as an intriguing series that will have moments of fun, laughter, and as well as moments that will intrigue the viewers emotionally. "I have 4 children whom I love dearly. My children are very musically inclined, and I believe them to be extremely gifted in the arts. I wanted to create a musical series for television that my children and I could enjoy together as a family. I can envision my kids singing along to the original songs and dancing to all the great choreography, especially my daughter Chrissy," says Chris Stokes.
Howard High is a Musical about a single mother and daughter who've suffered a tragic loss in their family, and have to relocate to a new neighborhood starting all over. The mother lost her husband, and the daughter lost her father. She attends a new school, "Howard High" where she is forced to find new friends and in the process, she finds herself falling in love. During the process of establishing themselves in their new community, there are heart warming moments, life altering moments, and moments that make you want to dance and sing. Hearing Mr. Stokes describe the story about "Howard High," I believe the show will warm the hearts of America and will increase the important awareness of family time.
To learn more about Chris Stokes, visit his official website: http://officialchrisstokes.com/. For media inquiries, please contact Rick Lee rickalee.1972(at)gmail(dot)com