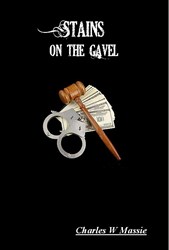 Syracuse, New York (PRWEB) August 15, 2013
Mark Casey has been arrested for crimes he did not commit. Now the battle begins between Mark and the good 'ol boys of Kentucky. The odyssey that began for Mark in the book Pinned – A Kentucky True Crime, continues now in Stains on the Gavel. This is the second novel of the 'Blue Grass' Series, and details what some might call, Kentucky Injustice.
This particular case is a big deal for a little rural town where nothing much ever happens. The Prosecution has virtually no evidence against Mark and the case is built on speculation. It's looking like an acquittal is the logical outcome.
But in southern Kentucky, money always carries a lot of weight. Mark is about to find that even in the bible-belt, not everybody lives by 'The Golden Rule' and sometimes personal gain can outweigh the obvious call for justice.
Stains on the Gavel is being aggressively promoted to appropriate markets with a focus on the Mystery/True Crime category. With U.S. wholesale distribution through Ingram and Baker & Taylor, and pervasive online availability through Amazon, Barnes & Noble and elsewhere, Stains on the Gavel meets consumer demand through both retail and library markets with a suggested retail price of $19.95. Additionally, Stains on the Gavel can be ordered by retailers or wholesalers for the maximum trade discount price set by the author in quantities of ten or more from the Outskirts Press bookstore at http://www.outskirtspress.com/bookstore .
ISBN: 9781432799144
Format: 6x9 paperback cream
Page Count: 315
SRP: $19.95
For more information or to contact the author, visit http://www.outskirtspress.com/stainsonthegavel .
About the Author
Charles Massie grew up in upstate New York, the oldest of 4 children. After finishing high school, he enlisted in the United States Navy and served a total of six years at various ports around the world. Upon his return to civilian life, he continued his education at Syracuse University and eventually worked for a number of engineering and sales firms. The call of creative expression was always in the background of his life and over the years, he has submitted articles and stories to Twilight Zone Magazine, Readers Digest, Analog Publications and others.
He currently lives in the Commonwealth of Kentucky and is the owner of StarShow Publications. For more information, please visit http://www.starshowpublications.com.
For Media Interviews and Review Copies, Contact the Author Directly
Media Contact:
Charles W Massie
starshowpubs(at)gmail(dot)com
Starshow Publications
P.O. Box 375, Horse Cave, KY 42749
315-559-9498
http://www.starshowpublications.com
###