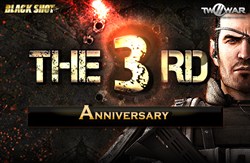 (PRWEB UK) 14 August 2013
To celebrate its 3rd anniversary appropriately, the FPS BlackShot Europe has added a new map as well as powerful weapons and new equipment to the game. A new TFM map "Savage Ground" has been implemented. As a special content for the anniversary, players can now get the extremely rare "Azrael – Archangel of Death" weapons, which are a remodeled P90 as well as a deadly blade. Other new features are the Steyr scout rifle and the exclusive SSG82 Black Europe, as well as new magazine extensions.
Along with the new contents, the loyal fans of BlackShot Europe can participate in many anniversary events. Except for the anniversary event in which players will get stylish sunglasses, there is also the Summer Cup 2013 to match the best players of BlackShot Europe against each other, the Summer Night Double Boost event to provide players with many benefits and another Ranking Event in which the Top 3 winners of UMP Greywolf will be rewarded premium weapons and useful skill items.
More information about all upcoming features and the game itself can be found on the official BlackShot Europe website http://www.blackshotonline.eu and on the official facebook page https://www.facebook.com/BlackShotEu/.
About BlackShot Europe
BlackShot is a tactical MMOFPS developed by Vertigo Games, based on the story of an unprecedented world war. With different objectives and in various areas, players can enjoy exciting PvP battles. By fighting in a team and fulfilling different tasks, players can gain rewards to advance characters in level, gears, weapons, and some very important tactic skills.
About eFusion MMOG GmbH
eFusion MMOG GmbH, headquartered in Eschborn, Germany, is the official publisher of Dragon Nest, BlackShot and NavyField in Europe. Founded in 2007 and initially specialised in military games, eFusion MMOG is now extending its game portfolio and focusing on the publication of high quality massively multiplayer online games (MMOGs) developed especially in Korea for European markets.
Contact:
Martin Simon
Public Relations
T +49 (0) 6196 - 998 69 03
M +49 (0) 177 - 677 41 99
Mail martin(at)efusion-mmog(dot)com
Web http://www.efusion-mmog.com