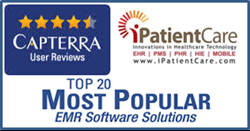 Our quiet growth has been possible because of our own users referring iPatientCare to their colleagues and also due to our aggressive effort in migrating data when customers switch to iPatientCare from other solutions. – Pranav Patel, General Manager
Woodbridge, NJ (PRWEB) August 15, 2013
iPatientCare, Inc., a pioneer in mHealth and cloud-based ambulatory EHR and integrated Practice Management solutions, announced the inclusion of iPatientCare as one of the nation's Top 20 Most Popular EHR Software Solutions by Capterra, a leading portal connecting buyers and sellers of business software and solutions.
Electronic Health Record (EHR) software gives medical professionals access to patient medical records from a centrally-accessible system. With a market size estimated to hit $6 billion by 2015, growing at a rate of over 16% per year, EHRs typically include medical history, laboratory results, medication, allergies and even billing information to help create a more streamlined process for patient care. Capterra recently released its list of the most popular EHR software solutions as measured by a combination of their total number of customers, users, and social presence.
Capterra estimates that 40% of medical professionals have already implemented an EHR, but with the HITECH Act still in effect, it expects the number to continue to increase.
"The uniqueness of iPatientCare has been its steady, robust growth with the least customer attrition rate heard in this industry. Of course, the product is extremely easy-to-use at the point-of-care, especially using an iPad, the implementation/training and post-implementation support contribute to iPatientCare's outstanding reviews in surveys, such as, that conducted by Capterra recently," said Pranav Patel, General Manager, Marketing/Sales, iPatientCare, Inc.
He added further, "Our quiet growth has been possible because of our own users referring iPatientCare to their colleagues and also due to our aggressive effort in converting data from existing EHR solutions to iPatientCare when customers switch to iPatientCare from other solutions. Customers understand the simple fact that of why settle for anything less than one of the most popular EHR solution, given the features/functionalities, competitive pricing points, and extremely cooperative professionals to help and support on almost on 24x7 basis? iPatientCare has made an entry to top 20 list directly at 12th position and with focused efforts our goal is to be part of top 5-10 EHR's in the industry by next year."
About iPatientCare
iPatientCare, Inc. is a privately held medical informatics company based at Woodbridge, New Jersey. The company is known for its pioneering contribution to mHealth and Cloud based unified product suite that include Electronic Health/Medical Record and integrated Practice Management/Billing System, Patient Portal/PHR, Health Information Exchange (HIE), and mobile point-of-care solutions that serve the ambulatory, acute/sub acute, emergency and home health market segments.
iPatientCare 10.8 is compliant with the ONC 2011 Edition criteria and was certified as a complete EHR in accordance with the eligible provider certification criteria. Full certification details can be found at https://www.cchit.org/show-onc-cert?certid=a055000000D3BH1AAN. iPatientCare 10.8 is also certified in CCHIT's separate and independently developed certification program and is a CCHIT Certified® 2011 Ambulatory EHR additionally certified for Child Health.
The company has won numerous awards for its EHR technology and is recognized as an innovator in the field, being a pioneer to offer an EHR technology on a handheld device, an innovative First Responder technology to the US Army for its Theatre Medical Information System, the first to offer a Cloud based EHR product. iPatientCare is recognized as one of the best EHR and Integrated PM System for small and medium sized physicians' offices; has been awarded most number of industry Awards; and has been recognized as a preferred/MU partner by numerous Regional Extension Centers (REC), hospitals/health systems, and academies.
Visit http://www.iPatientCare.com for more information.
-- END --
Contact:
iPatientCare, Inc.
One Woodbridge Center, Suite 812, Woodbridge, New Jersey 07095
Phone: 800-741-0981 | Fax: 732.676.7667 | Email: info(at)ipatientcare(dot)com