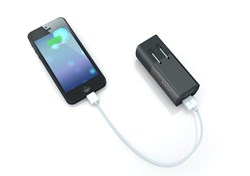 Atlanta, GA (PRWEB) August 14, 2013
A talented group of longstanding friends in Atlanta, Georgia are seeing their dreams coming true thanks to their fundraising success on Kickstarter.com.
The aptly named product, juiceBee, is an innovative 2-in-1 battery backup pack and wall charger that can solve a myriad problems for frustrated owners of smartphones and other rechargeable electronic devices.
Their Kickstarter campaign has received an enthusiastic amount of support from consumers nationwide.
Raising over $25,000 in pledge money, juiceBee is more than halfway towards their startup goal.
The inspiration behind the product came from the need to keep a smartphone or game console charged and backed up without having to carry multiple cords and chargers.
Thus, the idea of juiceBee was created. Consisting of a battery backup and wall charger dock together via a built-in USB port, juicBee can be used separately for one electronic device, or together, allowing consumers to power up their mobile phone and battery backup pack simultaneously, a plus for those who tend to forget to recharge their backup pack. This new solution allows users to utilize either an electric wall outlet, computer or any other device with a USB port.
A fully charged juiceBee stores enough power to load an iPhone 5 from dead to fully charged with lots of power to spare (Whereas a typical backup carries 2200 mAh, juiceBee carries 3000 mAh.)
Additionally, it is lightweight, fits in the palm of your hand and can be used anywhere in the world, even while traveling by car or plane. As a final touch, the design team gave it a built-in LED light for those occasions when lighting is less than adequate.
JuiceBee's dual 2-in-1 power solution system still needs starter funding, but with so many features and an enthusiastic development team behind it, Kickstarters from across the country are hurrying to get in line to back it up themselves.