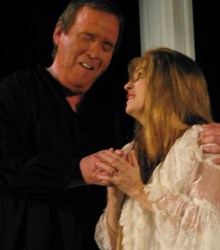 ...an imposing physical presence with a gleaming rich tenor voice.
Warren, NJ (PRWEB) August 15, 2013
Eastern Opera of New Jersey, premier opera performers, will repeat performances of Otello on August 16 at 7pm, August 17 at 8pm and August 18 at 3 pm fully staged at the historic Brook Theater, 10 Hamilton Street in Bound Brook, New Jersey. Tickets are still available for the remaining 3 performances.
Patron and long-time opera fan Michael Markowitz had the following to say about the performance on August 11, 2013 at Dolan Hall, College of Saint Elizabeth:
"Grand opera needn't be big to be grand. This was apparent in the Eastern Opera of NJ concert semi-staged performance of Verdi's "Otello" presented last Sunday at the Dolan Theater at the College of St. Elizabeth in Convent Station. Using a small orchestra under the direction of Maestro Robert W. Butts, who also masterfully did the reduction of Verdi's much larger original score, the drama focused on the three principal characters providing an intimacy which intensified the emotions in the score.
The roles of Otello and Desdemona were performed by the husband/wife team of Peter and Karole Lewis, which added a poignant and palpable presence in their duets. Peter had an imposing physical presence with a gleaming rich tenor voice which became harsher and edgier as Otello sinks deeper into mad jealousy. His almost brotherly love for Iago was noticeable, not once suspecting his friend was full of such treachery. When Lewis sang the two words "Otello fu!" (Otello is finished), he physically and vocally summed up his fate. And Ted Dougherty as Iago had almost too beautiful a voice than normally heard in the role, but this too gave a chilling angle on the bitter evil of his character was coated with honey but effectively poisoning Otello's mind.
The "minor" roles of Cassio and Roderigo were very capably done by Dmitri Zigrino and Ira Barth who both sang well and for once looked the right ages! I guess "Otello" was the original "Three Tenors" show. Michael Spaziani presented Montano with a rich sonorous bass, and Steve Fredericks' Lodivico should have been given more to sing with his warm baritone. The role of Emilia was sung by sixteen year old Kimberly Lewis, a student at Watchung Regional High School, in her operatic debut. The small chorus belied their numbers but truly had a crucial role in setting the scenes and providing the contrast for the soloists.
Maestro Butts is to be lauded for carrying off one of the most complex operas in the literature with such aplomb. His uncanny ability to bring out all the nuances of a large orchestral scoring to the essentials is really amazing. And the fact that the orchestra was BEHIND the singers, yet he kept everything together wonderfully. The instrumental solos, especially Elizabeth Engelberth's English horn solo in "Salce" and Norman F. Edges' bass solo in the same act could have come from any professional opera orchestra. Bravi tutti.
And as for Karole Lewis' assumption of Desdemona, I think it was the finest reading of the role I've ever seen- her voice and acting gave a complete portrait of the character, from rhapsodic devotion to her husband in Act One, to the warm sympathy towards her people and to Cassio, her uncomprehending humiliation in Act Three, and her almost unbearable grief and sadness in her rendition of the "Willow Song" and prayer in Act Four as she prepares for her fate. What an extraordinary singing actress."
Considered by many to be one of Verdi's greatest operas, Eastern Opera's Otello is filled with the exciting mixture of glorious music and intense drama. With an all-star cast, world class conductor, beautiful sets, costumes and gorgeous music, the performance will be memorable and compelling.
The title role of Otello is double cast. Peter Lewis of Warren NJ (August 17) recently sang Pinkerton in Madama Butterfly presented by Eastern Opera earlier this year. Making his debut with Eastern Opera, the Moor of Venice is John Tedeschi of Brooklyn NY (August 16 and 18), who has been recognized for his captivating stage presence and endearing acting coupled with a ringing tenor instrument. "The role of Otello demonstrates the full scope of human nature in all of its extremes." Mr Tedeschi commented "This is a man who tastes every color and aspect and unfortunately is not discerning enough to step away from the buffet. He takes it all in, his scales are permanently tipped with emotional excess. I say taste because I believe Otello does not always see what is best for him or those around him. He often does not use his mind to find solution. Within his heart is goodness, but he is blinded by paralyzing envy, questionable love of self, Desdemona, and in the end of all he serves, including God."
Desdemona is also double cast. Karole Lewis of Warren NJ (August 17) recently sang the role of Cio-Cio-San in Madama Butterfly. Making her debut with Eastern Opera is Victoria Wefer (August 16, 18) of Union NJ. Ms. Wefer is delighted to add the role of Desdemona to her repertoire and to have her interpretation debuted for Eastern Opera of NJ audiences. Ms. Wefer's various awards and distinctions include top prize in the South Orange Symphony Orchestra Artist Competition, a Metropolitan Opera National Council ENCOURAGEMENT AWARD, first runner-up in the Verna Ross Career Performance Grant Competition sponsored by SAI Philanthropies, Inc., Joyce Dutka Arts Foundation Competition Finalist, Semi-Finalist and award recipient in the International Music Festival in Trujillo, Peru and top honors from the Académie Internationale d'Été de Nice.
Eastern Opera Corp. is a nonprofit corporation organized and operated exclusively for charitable purposes. Specifically, Eastern Opera has been formed to encourage and instruct individuals for the purpose of improving and developing their capabilities, to educate the public on subjects useful to the individual and beneficial to the community, and to promote the arts and culture to the local communities. The first opera performance, Puccini's Madama Butterfly (May, 2013) was met with standing ovations. For more information, contact Lou Kersey at loukersey(at)easternopera(dot)org or visit http://www.easternopera.org/.