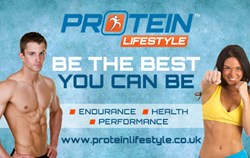 Colchester, Essex (PRWEB UK) 15 August 2013
Today sees the launch of Protein Lifestyle – a new company with their finger on the pulse of health and nutrition for all. Take a look around online and it's easy to find a multitude of sites geared up for whey protein products for the bodybuilding industry. Protein Lifestyle are taking a new approach. As the name suggests, supplementation is now a lifestyle choice, not just for bodybuilders but for all who take their mental and physical well-being seriously.
It's a sad fact that over a quarter of the UK population over the age of 16 are now classified as obese. Add to this the 1 in 4 people per year who will suffer some kind of mental health issue and the 40% of sick days taken from work through stress related illnesses and the evidence suggests that the UK really are a sickly population. With a future of health issues including high blood pressure, heart disease, diabetes and certain cancers, what can be done to reverse this process?
More and more people are becoming wise to the growing epidemic of poor health and with this in mind Protein Lifestyle have devised a complete plan for every scenario. Whether the goal is to build body mass on competition level, tone up what a person has already worked hard to achieve, to lose weight or simply to give the body that extra boost to maintain the immune system as well as mental and cognitive health, Protein Lifestyle have tips and advice as well as supplemental products to achieve that goal faster and easier.