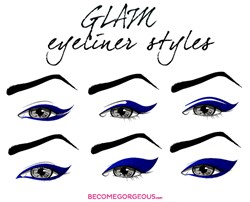 At Becomegorgeous.com, our mission is to help women explore the possibilities makeup offers with detailed tutorials of popular makeup styles like the classic pin-up makeup look.
(PRWEB) August 16, 2013
Any woman can benefit from learning simple ways to flatter her best features with makeup. The eye liner styles guide and the classic pin up makeup tutorial can help both beginners and experienced makeup enthusiasts expand their knowledge base with new ideas and useful skills for creating a stunning look, whether it's a for typical work day or for a special event. While the classic pin up girl makeup look tutorial requires slightly more complex skills compared to the ones presented in the eye liner guide, the comprehensive explanations are adapted to match any level of experience and eliminate most, if not all, barriers in understanding.
Taking full advantage of frequently used makeup tools is extremely useful not only for women who are just beginning to experiment with makeup, but also for those who want to make sure that the choices they make truly compliment their features. Learning about eyeliner styles and shapes is important as these will have a significant impact on one's overall look. The article is meant to be a helpful guideline for choosing the right tools depending on skill level and tackling the many possibilities eye liner offers.
Common dilemmas such as what are the best tools for beginners, how to master the basic top lash line technique, why it is recommendable to use liquid eyeliner instead of pencil eyeliner when experimenting with sultry cat eye makeup styles or how different eye liner styles can be adapted depending on the desired effect will be quickly solved. Though makeup looks are strongly influenced by personal preference, selecting the eyeliner shapes that complement different eye shapes is key for a stunning look. Quick and easy tips on what to keep in mind in order to make the best choices are also offered.
The pin up girl makeup style is one of the most popular looks of the moment. Its sultriness and sophistication make it a great option for any occasion when a glamorous look is desired. The classic pin up makeup tutorial is a complete guide for mastering this sought-after look. The detailed step by step video instructions, which can be found on YouTube, focus on every important aspect of getting the pin up makeup look, from creating the illusion of a flawless skin and selecting the right tones and products, to tips on how to customize the look for one's features. Many more secrets are revealed to ensure the learning process is as smooth and effortless as possible.
Furthermore, written instructions highlight the most essential tips and tricks and can be used for quick references at any time. Each part of the process is emphasized separately, allowing a seamless transition throughout most significant points and making it easier to find the most relevant information needed.
Becomegorgeous.com was created in 2007 and has become a comprehensive source of information on high interest topics for women of all ages ever since. Its goal is to help women find the tools they need to be able to explore their full potential and become the best version of themselves. It focuses on delivering high quality content on a myriad of subjects ranging from fashion, makeup and beauty care tips to health and fitness, love and relationships, travel and living and entertainment. The growing beauty community allows users to share their thoughts and concerns with like-minded individuals.