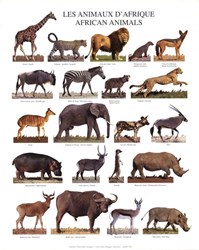 Delray Beach, FL (PRWEB) August 14, 2013
Baby animals and animals in the wild continue to be extremely popular Internet searches, so PosterNation.com added new posters to its website that animal enthusiasts will love. The new products include posters of bears, marine life, safari animals, farm animals and much more.
Vladimir Safin, co-founder of PosterNation.com, said, "Animal posters are great for classrooms and children's rooms. These products are some of our best-sellers, which is why PosterNation.com increased its inventory to include an even wider selection of animal-themed posters and framed art prints."
To save money on the new products, customers can take advantage of the site-wide sale that PosterNation.com is having through August 31, 2013. Shoppers can enjoy a 25 percent discount on all art prints, posters and even framed art prints. The new animal posters are available now.
About PosterNation.com
PosterNation.com offers thousands of high-quality framed art prints and posters featuring themes that include sports, movies, music, pets, animals, travel, motivational topics, hot people, vintage celebrities and more. The frame shop allows customers to customize their purchase by selecting the cropping, matting, framing and glazing for a framed art print or poster. Please visit http://www.PosterNation.com for more information.