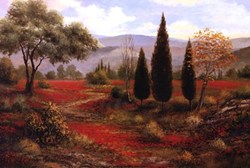 Delray Beach, FL (PRWEB) August 15, 2013
Discover new posters just in time for autumn at PosterNation.com. The weather is cooling down and the school year is just starting, so that means it's time to kick back and decorate with reds, oranges, yellows and other warm fall hues.
PosterNation.com now offers a wide variety of autumn-themed poster categories, such as fall landscapes and Halloween. Shoppers will also find posters of sports, recipes and activities with fall themes.
Vladimir Safin, co-founder of PosterNation.com, said, "Framed seasonal art prints are the perfect way to enjoy your favorite time of year. In addition to autumn art prints, PosterNation.com also has a wide variety of winter, spring and summer art prints."
Finding the right home décor accessory adds a beautiful focal point to any room. All of the posters and art prints can also be custom framed for a fraction of the cost of local framers. Enjoy a site-wide sale on PosterNation.com that gives all customers 25 percent off their entire purchase of art prints, posters and framed art prints through August 31, 2013.
About PosterNation.com
PosterNation.com offers thousands of high-quality framed art prints and posters featuring themes that include: sports, movies, music, pets, animals, travel, motivational topics, hot people, vintage celebrities and more. The frame shop allows customers to customize their purchase by selecting the cropping, matting, framing and glazing for a framed art print or poster. Please visit http://www.PosterNation.com for more information.