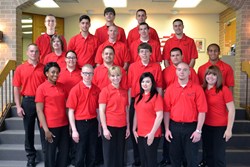 Leesburg, Va (PRWEB) August 14, 2013
SkillsUSA, the organization that represents the United States in the WorldSkills Competition, sent 20 career and technical education students to Leipzig, Germany, to compete in 19 skill categories during the 42nd biennial international event, July 2-7, 2013.
The students tested their skills against more than 1,000 students representing over 60 countries and regions from around the world competing in 45 official skill competitions and one demonstration contest. There were 5,000 international experts, delegates and judges, three thousand volunteers and 200,000 student and public spectators attending.
The WorldSkills Competition highlights a worldwide issue: preparation of a highly skilled workforce. Simon Field of the Organization for Economic Co-Operation and Development (OECD) stated in the book Learning for Jobs, "Increasingly, countries are recognizing that good initial vocational education and training has a major contribution to make to economic competitiveness. The wealth of nations will come to rely more on the skills of their people than on other sources such as natural resources."
The competitors earned the right to be members of WorldTeam by winning local, district and national contests under the SkillsUSA Championships program and then by participating in an application and interview process and an extensive training regime to prepare for WorldSkills. Competitors must be under the age of 23.
The Silver Medal in Welding was awarded to Alex Pazkowski from Ann Arbor, Michigan, and a student at Washtenaw Community College. And, Medallions of Excellence (awarded to competitors who receive at least 500 out of 600 possible points) were awarded to Marcus Cain from Durham, North Carolina, and a student at Duke University, in the IT Network Systems competition; and, to Kieron Kohlmann from Big Rapids, Wisconsin, and a student at Ferris State University, in the Automotive Technology competition.
Other members of the WorldTeam who qualified for and competed in the WorldSkills competition were:

Autobody Repair – George Mason, Lexington Technology Center, Lexington, S.C.
Beauty Therapy – Savanah Miller Dunn, Western Technology Center, Sayre, Okla.
Bricklaying – Dylan Ennis, Central Cabarrus, Concord, N.C.
Cabinetmaking – Daniel Berrios, Northampton Community College, Bethlehem, Pa.
Car Painting – Nate Wagner, Harkness Career and Technical Center, Cheektowaga, N.Y.
CNC Milling – Joshua Bedell, Pinellas Technical Education Center, Clearwater, Fla.
CNC Turning – Ronald Olkowski, Ferris State University, Big Rapids, Mich.
Cooking – Matthew Lorman, North Point High School, Waldorf, Md.
Graphic Design Technology – Sarah Parker, Ronald Reagan High School, Pfafftown, N.C.
Hairdressing – Brooke Robison, Mecosta Osceola Career Center, Big Rapids, Mich.
Mechatronics – Antony Costantini, The Technology Center, Fremont, Ohio
Mechatronics – Jarrod Nichols, The Technology Center, Fremont, Ohio
Plumbing and Heating – Nicholas Michalenko, Smith Vocational, Northampton, Mass.
Print Media Technology – Heather Ashe, Coastal Carolina University, Conway, S.C.
Refrigeration and Air Conditioning – Christopher Kuhn, Lorain County Joint Vocational School, Oberlin, Ohio
Restaurant Service – Amala Edwards, New England Culinary Institute, Montpelier, Vt.
Web Design – Michael Angel, Essex High School/Center for Technology, Essex Junction, Vt.
Additional information on the SkillsUSA WorldTeam is located at http://www.skillsusa.org/compete/worldteam13.shtml.
The following sponsors have generously provided financial and/or in-kind support to the SkillsUSA WorldTeam: Lowe's Charitable and Educational Fund (Anchor Sponsor); 3M Company; American Welding Society; Architectural Woodwork Institute; Association of Woodworking and Furnishings Suppliers (AWFS); Automated Manufacturing Technology contest national technical committee; Automotive Service Technology contest national technical committee; Carhartt, Inc.; Carrier Corp.; Cosmetology contest national technical committee; Deere & Company; FESTO Corporation; Diesel Equipment Technology contest national technical committee; Frederick County Career and Technology Center; National Institute for Automotive Service Excellence (ASE); NCCER; Pivot Point International; SkillsUSA Florida; SkillsUSA Maryland; SkillsUSA Massachusetts; SkillsUSA Michigan; SkillsUSA North Carolina; SkillsUSA Ohio; SkillsUSA Pennsylvania; SkillsUSA South Carolina; SkillsUSA Wisconsin; Snap-on Inc.; Toyota Motor Sales, U.S.A., Inc.; Unilever Food Solutions; and, the World Organization of Webmasters (WOW).
The WorldSkills Competition (WSC)
SkillsUSA is a member of WorldSkills International (WSC) headquartered in Amsterdam, Netherlands. This organization sponsors the biennial WorldSkills Competition (WSC). Participation in the WSC has provided a vehicle for comparing our career and technical students and methods of training with that of our major market competitors. The training technologies displayed at the WSC exemplify the ultimate standard in skilled workforce preparation. As such, they offer important lessons for technical instructors and for SkillsUSA's corporate partners, whose productivity depends on employees with up-to-date skills. WSC results are one of the benchmarks by which a country's global economic competitiveness can be judged.
WorldSkills was founded in 1950 and currently has members from 48 countries, with efforts constantly being made to expand the membership. In 1973, President Richard M. Nixon recognized SkillsUSA (then known as VICA) as the official organization representing the United States. Only one organization may represent a country in the official delegation and certify that country's international contestants. To learn more about the WorldSkills Competition, go to http://www.worldskills.org.
About SkillsUSA
SkillsUSA helps students discover and grow their career passions. As a nationwide partnership of students, instructors and industry working together, SkillsUSA works to ensure America has a skilled workforce. It helps every student excel. The nationwide career and technical education student organization annually serves more than 320,000 high school, college and postsecondary students—and their instructors—enrolled in technical, skilled, and service occupation instructional programs. Career and technical education is learning that works for America. SkillsUSA has the active support of more than 1,100 corporations, trade associations, businesses, and labor unions at the national level. Over 11.2 million people have been annual members of SkillsUSA since its founding as the Vocational Industrial Clubs of America in 1965. SkillsUSA programs teach leadership, citizenship and character development to complement technical skill training. The organization emphasizes respect for the dignity of work, ethics, workmanship, scholarship and safety. For more information, go to http://www.skillsusa.org.
For more information about the upcoming WorldSkills International Competition, visit http://www.worldskillsleipzig2013.com. For information about SkillsUSA, contact Tom Holdsworth at 703-737-0607, THoldsworth(at)skillsusa(dot)org or Jane Short at 703-737-0612, jshort(at)skillsusa(dot)org.